The_Plan_Pony
(?)Community Member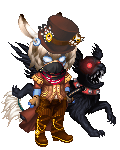 Posted: Fri, 28 Sep 2012 21:31:21 +0000
Full the moon and midnight sky
Through the dark they ride
Warriors of forever will sacrifice their right
☃

Geli Rivka Eichel

☃
☁

German Scribe with a supreme knowledge of Monsters

☁
✖════════════════════════════════════════════════════✖
Geli knew at the exact point when her familiar had found his favorite part of the meat he was tearing into. The sounds of ripping and tearing caused her to flinch, despite five years of listening to that noise it still made her flinch every time. Oh well, at least it didn't make her feel nauseous anymore and for that she was thankful as the cafeteria workers tended to scold her when she didn't eat enough. That aspect felt like she was back home in Germany, sitting at the dinner table with the rest of her family as they ate and retold the tail of their day to the others. Her part was always silent, usually spent with her nose in a book or working on an assignment for school until the object was quite literally taken from her so she could pay attention to the rest of the family. A brief tinge of homesickness welled up inside her stomach and she began pushing her food around for a moment.

"You know...you could call them if you liked...maybe even go visit.''

the dragon spoke at her feet as he swallowed a lump of meat. The fork in her hand continued to push the spaghetti she had been eating before as she sighed and looked down at her familiar, smiling slightly at the sight of his messy jowls before she removed a napkin or two from the dispenser on the table and held them out to Barth for later. "

I could but...that would just cause problems I fear. It would be best to stick to writing letters and hope maybe they will forget about me.''

she said quietly as she finally stopped playing with her food and placed a forkful of the slimy noodles into her mouth.

A chuckle made her blink as she glanced back down at the white dragon, who was shaking his head as he dabbed daintily at his mouth with a napkin clutched in his claw.

"My child, a parent never forgets their offspring.''

he mused with a smile, well the closest a dragon could get to one.

"I remember all my offspring, I was quite the ladies man myself before the great war.''

he laughed as she went back to eating, causing his human partner to roll her eyes.

"Uh-huh, I know for a fact that your species of dragon does not raise their offspring, in fact the males aren't even present after the mating.''

she countered but smiled at his attempt to cheer her up, which again made the dragon chuckle into his meal.

"Oh you caught me but the point is...''

he paused to finish swallowing the few lumps of meat in his mouth.

"Is that humans tend to be rather fond of their children and can not forget them so easily. Your parents still love you I am sure and would like to hear a call...but what do I know? Just a dragon.''

he finished and promptly buried his snout in the remains of the rabbit and presumed eating, meaning his time for conversation was over.

"I suppose you might be right.''

she sighed softly but beyond that she went back to forcing spaghetti and whatever else was on her tray.

So far this seemed like it was going to be an uneventful meal, the kind she actually preferred none the less. Did she get lonely? At times yes, but she wanted to involve herself with her work and keep social activities on the back burner. Geli couldn't really say why she threw herself in her work other then the fact that she loved to learn and read. Thanks to the gift of a photographic memory from her dragon familiar she now remembered everything she had ever read in the library. She was not even close to halfway done to reading everything in the library but it seemed like she might get the chance with the conversion of books into a digital format. Perhaps someday, someday farther down in the future, she would attempt to become head of The Scribes but for now she was just happy with working in the Creature Lore field. Though her thoughts were on the minotaur and getting to see it in action so she didn't notice the commotion the suddenly disappearing Patriarch caused around her. Oh her dragon did, Barth glanced up curiously but simply shrugged and went back to eating his meal. He did see the man appear behind Geli but simply smirked and went back to eating.

"Oh this is going to be good.''

he mumbled softly to himself as he ate and watched the show.

Perhaps it was because she was a scholar and not a warrior so her guard was never up for impending attacks, perhaps it was just because she didn't like to be surprised, but when she felt the tap she reacted rather dramatically. Her fingers were poised halfway to her mouth, a piece of garlic bread captured between them, as she prepared to take a bite. Someone tapping on her shoulder rarely happened during lunch and when it did happen she released a shriek of such loud proportions that even surprised her as the bread went flying from her hand. Immediately she clasped her hands over her mouth and blushed deeply as others around her looked over in surprise, A voice brought her from her embarrassment as very red faced she turned to look at the leader of the New York sector of the organization that was suddenly standing behind her. Her face stayed bright red, her hands in front of her mouth, as he asked if she was Geli and her head merely nodded up and down. The manners of strict politeness enforced upon her and most German youth quickly kicked in and she yanked a napkin from the dispenser and started wiping at her mouth.

"Yes, sir. That is I...''

she said quietly as she made sure to scrub at her mouth to get any remaining tomato sauce as the dragon was laughing hysterically on the ground.



"Your face! Your face is just priceless, *liebe!"

he laughed as the girl gave him a glare and cleared her throat.

"I...I'm sorry my reaction was so strong...I wasn't expecting anyone to come up to me.''

she tried to laugh it off but it sounded more nervous then anything. Immediately she felt extreme social awkwardness creep upwards and it didn't stop as another came towards them.'Tatiana Venediktov... Head of the Hidden Watchers.' she thought to herself as all the information she had ever read on the woman came up to mind. Geli had always thought Russians had nice accents and paid attention to it, even as she dropped her eyes back to her food and began to eat again as it seemed the woman was attempting to keep the conversation a bit private.

"I never quite understood why a vampire left the meat behind and merely feasted on the blood. Seem's a bit of a waste.''

her familiar piped up, acting as if he could care less about the attempted privacy of the situation and looked at the woman. Barth used to be quite a bit bigger in the Void and before the war, his size shrunk considerably when he was summoned as a familiar yet he often spoke as if he was large and had no concern for the complications that his words might have.
╔══════════════╗
German Translations:
Liebe= Love
╚══════════════╝
✖════════════════════════════════════════════════════✖
☃

Bartholomew the Ice Dragon

☃
☁

Easygoing with a fantastic memory

☁
In this land we have defended
from all things dark and cruel
Now we are defenceless in the land where dragons rule