rage valley
(?)Community Member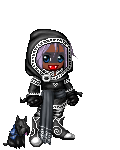 Original Capitalist
5,850 Points
150
Posted: Tue, 01 Jan 2013 19:14:25 +0000



Black leather shoes slapped against the marble tiles of the marketing department of Conrad Towers. Matching these shoes was a fine Armani suit, and the man wearing them had his hands in the pockets of the pants. This man was of course the CEO of Conrad Industries himself, Andrew Conrad. As he strolled past the cubicles of salespeople trying to sell space weaponry and aircrafts to various militant groups, heads bowed, afraid the young businessman would scold them if they were caught doing something other than their job. But today, Andrew was not very much interested in his employees. Of course he expected them to make him shitloads of money, but today his focus was on his other endeavor. The Legion had been rather quiet lately. There hadn't been the usual petty crimes and arson that greeted him each and every week. Liberty City had been rather quiet. Andrew didn't like it, not when he didn't know when those idiots from the Legion were.

He walked past the desk of his secretary who began telling him how many messages he had and the appointments that were scheduled for him today. Andrew hardly listened. "

Alright.

" He simply said as he pushed against the heavy mahogany doors in front of him and entered the massive office that took up nearly a quarter of the entire floor. Bookshelves lined the walls, a full bar was to his left and in the middle there was nearly a full living room. His massive desk was behind this, with huge windows that let it the wonderful natural light of Liberty City. He couldn't see the skyline, because he was a part of said skyline. He could look down on all of Liberty City, due to the fact that he had made sure the Conrad Tower was the tallest in the city.

He slid into his Italian leather chair and rolled over to the window, staring down at the city. He pulled his phone out of his pocket and sent a mass text to his cohorts.


To: Ink, Bastet, Judas, Coinshot
From: Atlas

Legion's been too quiet. Meet at my office, we need to talk.

He pressed send and leaned back in his chair, watching a plane fly by. Oh how he wished he could put his favorite suit on and race said plane. But, work had to come before a boy could play.