gawdz0rz
(?)Community Member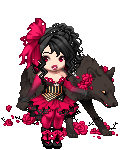 Posted: Thu, 04 Oct 2012 14:05:47 +0000


The day was still fresh, considering the sun had risen into the sky not long ago. Dew mingled on each blade of grass, causing it to be wet beneath wolf paws that pounded onto the ground with each step. It was just like any other morning, was it not? A quick run through the territory was a regular routine for the beta; allowing him to take in each and every new scent, whether it be wolf, bear, or rabbit. Hopefully there would not be the scent of a bear, though the run through the area was beneficial to knowing the pack was safe, regardless of where they were. It was his job - to keep the pack safe, alongside the beta fae that would be beside him, and beneath the alphas that ruled over him. Even before this rank, though, Calet was always doing his best to keep things together. To make sure everyone was taken care of, not harmed, and overall happy. With age, comes wisdom. And with wisdom comes happiness. Well, at least, that's how Calet saw it.

But perhaps the run was more than just knowledge of the surrounding area - perhaps the beta did this out of a way to exercise, as well as a way to soothe his mind. Coming out so early allowed his limbs to be stretched, but it also allowed him to prepare himself for the day. There was knowledge among the pack that cubs were to be born - brand new to the world, and needing all the care in the world. Each and every wolf would play their part in helping the new family, though the parents would do most of it, of course. Still, a cub was a cub, and every wolf needed to keep in mind that not only the parents were to protect and nurture the newborns, but the other wolves would, too. Granted, the mother may not let others near for a while, and it may even be hard to play a part in taking care of newborns with an overprotective parent, but soon enough they would calm down, and the cubs would need to see the world. Need to experience the pack. Need to live.

The beta prepared not only his body, but his mind for the day. He would need physical and mental strength to get himself through the times. He was not entirely old yet, but he was not young, either. The male had a few more years before being marked as what they considered an 'elder', even though he was not fond of the name. Still, it was inevitable that age would catch up to him. But for now, he was fine. He had a job to do - and that job at the moment remained scouting the area.

Soon enough, he finished. His scent was marked all over the brush in the territory, as he had made sure to take in every scent he came across. If something seemed dangerous, he would follow it - but this morning seemed quite safe. There was no scent of bears, or bucks, or anything that could cause harm to the pack and its incoming cubs. And with that small amount of satisfaction, Calet was quick to head back to the pup densite, where he was sure he was just a tad late for everything, even though he was hoping he was not.

As soon as he even grew close to Lyra's den, the scent of blood and newborn filled his nose. He crinkled his muzzle a little, though more toward the distaste of the birth smell. It was not his favorite, but then again, who actually liked smelling that sort of thing? Still, it did not cause him to move away, but instead slow down his run until he was on the outskirts of the area; taking note of all of the bodies that surrounded the mother and her birthing cubs. Calet could only imagine how irritated the parents must be, though he took no action to guide the other wolves away. If things were to get tense, such as the parents wanting everyone to leave, the beta would step in - but for now, he remained on the outside, and just kept looking in.

Taking in yet another whiff of the situation, it brought the beta into reality of his own life. Being five years old, he had yet to take on a mate. Yet to even try to court a female. Well, that was a lie - there were plenty of times he had attempted to court... but they never went well. Even during his younger years, the male was quite unfamiliar with the opposite sex. He was awkward with them; different. He would stumble over his words, forget what he was saying, and overall become extremely nervous. When it came to normal conversation, that was not the problem - but once the beta showed interest in a female near him, it was obvious. And it was bad. So, it seemed he did have reason to not have mated, or even taken a mate yet. Though, some may say otherwise.

Sighing lightly, the beta glanced around before taking a seat where he was at; plopping his rear down onto the wet grass and watching from afar.



I'm with

no one

,
Near the

pup den

.
gawdz0rz says Welcome, Calet. I left him open in case someone wanted to

tackle

approach him.