StellaLuna SkyWind
(?)Community Member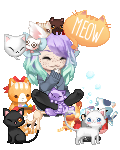 Posted: Mon, 22 Oct 2012 19:54:26 +0000
██████████
☾ • ☽
██████████
☾ • ☽
██████████
☾ • ☽
██████████
☾ • ☽
██████████
It seemed as though staying near the den, instead of running like a coward had been a hug miscalculation on Bay's part. She should have just gone and faced Sidero's yells, knowing that the large, snow fae wouldn't leave her den. But no. Bay had stayed, trying to prove she wasn't a coward. Trying to own up for her mistake. If she was going to be an omega, she could at least have been a brave one. that was the thought that had gone through her head, only to prove fruitless in the long run of things. She was an omega. It didn't matter if she was brave, or a coward, or even fearless and ruthless as the rest of the pack. It wouldn't change her station. She was still an omega, and she couldn't do much about that. She was at the mercy of the entire pack, and that was where she would remain. Blight was the only one that made her feel like more then the nothing omegas were supposed to be, but the reverence she held for Blight didn't make her feel like she deserved more then she got. She was an omega. Les then pups that couldn't open their eyes. Less then outsiders that came onto the territory. hell,s he might be less then every other wolf in the close by territories, other pack and all. If Aron had seen b[Luna as an asset, and she had come from Taichi, then there wasn't much hope for the golden-brown omega at all. No. Bay was stuck where she was, doing what she did, and playing to everyone else's commands.

It seemed as though Sidero had not desired to hear Bay speak at all. The snowy fae's maw was over Bay's own, shaking her head twice. Bay's eyes widened a little in surprise, but when she was released, she only pulled her tail closer to her legs. Sidero's words of retort simply reminded Bay of her station, and how stupid she had been to even go against the grain in explanation and apology. The mockery, wrapped in the beautiful ribbon of threat was only able to process a moment in the omega's mind before Sidero's body moved forward, and the snowy fae's teeth found a good chunk of flesh, right by Bay's tail and rump. The omega gave a yelp of pain and surprise. She didn't fight it, letting Sidero enact her punishment as she pleased. When Sidero released the chunk of flesh, Bay moved immediately back form the den, and the other wolves who looked over her as if she was nothing more then a nuisance. It might be true that really, that's all Bay was to everyone else. The omega drew her tail close, refusing to look at anyone of the remaining wolves' eyes. She didn't want more punishment for stupidity. She didn't want to be stupid anymore. She shouldn't have even left the rock which she had slept on the night before. It had been a bad idea. She had been practically looking for trouble that she had no need for.

With a fierce shake, and a second look to everyone else, Bay inched further back. She hadn't been dismissed, but she was certain Sidero's release probably meant that the snowy fae wanted her gone. If no one else spoke up about wanting her to stay, Bay was more then happy to high tail it away from Sidero's den, and to go back to her rock to await whoever wanted her next. If it was Blight, she might just appreciate that gift of reprieve, but she didn't know exactly who would call on her next. She inched further away, keeping her gaze low, but trained on the wolves around Sidero's den. Once she was under a cover or trees, or the other wolves turned away, she would bolt happily to freedom. Truly, her rump hurt, but she'd be fine soon. it wasn't as if she hadn't endured more wounds than this. And certainly, this punishment would not be her last.
OH HE WAS A
ℓσя∂
OF HIGH DEGREE
AND SHE WAS A
ℓαss
FROM THE
ℓσω cσυитяч
BUT SHE
ℓσvє∂
HIS
ℓσя∂sнιρ
SO
тєи∂єяℓч
oh sorrow • sing sorrow
NOW SHE
sℓєєρs
IN THE
vαℓℓєч
WHERE THE
ωιℓ∂ ғℓσωєяs
NOD
AND NO ONE KNOWS SHE
ℓσvє∂
HIM
BUT
нєяsєℓғ
AND
ɢσ∂