Laernathron
(?)Community Member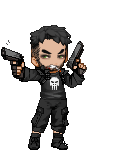 Posted: Sat, 15 Oct 2011 21:54:56 +0000
H
e
l
l
o
t
h
e
r
e
!
I am looking for some good RPs!
Things you might want to know about me:
•
I usually play
semi-literate
. Meaning my posts will be as gramatically correct as I can make them, and they might vary from 3-4 sentences to 3-4 paragraphs.
State your preference
, I will try to accomodate your wishes. However, I prefer to have no set length: I will try to make it an interesting read for you, but I will not b***h at you for writing three sentences or seven paragraphs - if it moves the game somewhere, if it works... I'm fine either way.
•
I do not do chatspeak RPs.
If you are not a native speaker or confident about your grammar skills, that's
fine
. But I prefer posts I don't have to decipher.
•
I am fine with OCs. I am not fine with MarySues or GaryStus
. If you want to roleplay simply to accomodate your wish to read yourself making out with your favourite character... that's fine. But not my cup of tea. And I won't write that for you.
•
I want
at least a semblance of plot
in the RP. It's fine to make up a lot of it during the actual game, but it shouldn't be only about 'I want these two characters to madly fall in love in about two posts'.
•
I like
UNCOMMON
pairings. Of course I will do common/canon ones, but there's a thrill and certain freshness to uncommon ones. You got a weird pairing you never could play with anyone? Try and throw it my way.
•
I'm from Europe, and there's this real life thingie I got. I will do my best to write back at least every other day. There might be days when I write back immediately, and days when you have to wait for my reply. I'm fine with waiting myself... but if you expect your RP partner to write back in an hour or so, I'm probably not the best choice for you.
Things I will do in an RP:
•
slash/yaoi/shonenai
•
might do het or femslash/yuri/shojoai if the plot is good
•
incest, humanoids, older characters... basically anything if it has a point and a place in the plot
•
original RPs
•
fan RPs
•
private-messaging RPs (if you don't want to use Gaia PMs for some reason, we can talk and find a way that'll suit us both)
•
more characters
per game. I think my max so far was 6 characters in one game...
Things I will NOT do in an RP:
•
MarySues
•
gore (I can write bloody scenes if it's important for the plot... I will not hack off my/your character's limbs just because)
•
chan/shota/explicitness involving children
•
rape (same as with gore - I refuse to write bottoms who get raped and enjoy it for no apparent reason)
•
I don't really like Real Person Slash, or any Real Person pairings... it's one thing messing with characters, but there's something just... strange about making happy fathers of families suddenly hate their wives and discover their gayness. If you're confident you can do RPS in a convincing, not-cliche way, I might reconsider.
•
group RPs. I SUCK at them. I do one-on-one RPs... I can, from experience, handle three or four people in one RP, but not... twenty.
Fandoms:
•
Harry Potter
Books/movies/whatever you wish. I think I can write pretty much anyone in this fandom, and I've got experience with this.
Characters I love most (but will do
anyone,
basically):
Severus Snape, Bill Weasley, Charlie Weasley, Draco Malfoy, Viktor Krum
•
Lord of the Rings
I couldn't keep track of all the crap that happened in Silmarillion or Hurin's Children. I know the basic stuff, make things up compliant with what I know (which I love in every RP).
Characters I've got experience with:
Glorfindel, Haldir, Orophin, Rumil, Erestor
•
Pirates of the Caribbean
Played Jack Sparrow, Will Turner, Theodore Groves. Capable of pulling off James Norrington.
•
Beyblade
Played Bryan, Tala, Spencer, Ian, Lee. Might pull off others, though these I love and relate to.
•
MARVEL (X-Men, Thor, Iron Man, The Avengers etc.)
I mostly know stuff from the movies (*le gasp*), but I've read a few comic books and I usually check up on my facts on wiki, or someplace. Characters I played: Tony Stark/Iron Man, Steve Rogers/Captain America, Thor, Loki, Clint Barton/Hawkeye (read most of his solo comic books or ones where he was the main character), Nick Fury, Beast, Erik Lehnsherr/Magneto... can't remember all of them, probably. Willing to try others, if I have an idea of who they are.
•
DC (mostly Young Justice/Justice League)
Played Wally West, willing to do other YJ members (and some JL members).
• never tried these, but I'm in love with the fandoms and willing to try:


Smallville
Dragon Age
Assassin's Creed
Elder Scrolls
(played Oblivion, Morrowind and Skyrim + expansions)
Young Justice (the cartoon - can include Justice League characters, but I don't have encyclopaedic knowledge of those)
The Vampire Diaries
ASK. I might've forgotten to list something. I most assuredly did.
Original RPs:
ANYTHING GOES, as long as it catches my interest.
Fantasy
and
historical
strikes my fancy most, but I can do sci-fi/postapocalyptic/present etc. I'm a bit of a research freak, so if you wanna do a specific historical/geographical setting, I'll do my best to make it believable. Fairy-tales sound a great idea to throw in an RP. Though I would prefer no cliches like 'highschool popstar tries to woo their quiet classmate who's silently in love with them'.