Chiramin
(?)Community Member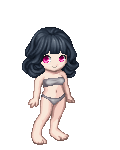 Posted: Sun, 30 Sep 2012 18:10:58 +0000
ɴᴀᴍᴇ;


Cherry Li


ɴɪᴄᴋɴᴀᴍᴇ;


Cherry.


ᴀɢᴇ;


20


ʙɪʀᴛʜᴅᴀʏ;


Winter 11


ʙɪʀᴛʜ ɢᴇɴᴅᴇʀ;


Female


sᴇxᴜᴀʟɪᴛʏ;


Straight


ᴡᴇɪɢʜᴛ;


120


ʜᴇɪɢʜᴛ;


5"3


ʀᴇsɪᴅᴇɴᴄᴇ;


Inn


ᴏᴄᴄᴜᴘᴀᴛɪᴏɴ;


I'm an artist, or do you not see my palette?
ᴍᴀʀʀɪᴀɢᴇ ʀᴇǫᴜɪʀᴇᴍᴇɴᴛs;
Marriage requirements? You mean somebody is actually interested in plain little me? Well, for a start you have to put up with the fact that I can't speak. I won't be able to say vows, or whisper in your ear how much I love you. I won't be able to laugh, and you won't be able to hear me cry. Are you alright with that? If you are, then the other things you'll have to put up with is my non-existent humor, obsession with mixing colors, and lack of actual income. In addition, there's the whole problem of actually getting me to like you, which is rather easy, so long as you're not a complete moron. My naivete is hard to put up with at times, but if you can get past my flaws, we'll have a lovely time.
ʟᴏᴠᴇs;
[❤] Fruits
[❤] Paints
[❤] New Canvas
[❤] Sweet Music
[❤] Nice fragrances
ɴᴇᴜᴛʀᴀʟs;
❀All Flowers
❀Herbs
❀Clothes
❀Jewelry
❀Kisses

ʜᴀᴛᴇs;

• Violence
• Fish
• Harsh sounds
• Ugly things
• People who jump to conclusions

ғᴇᴀʀs;


I'm afraid of death and dying.
ᴘᴇʀsᴏɴᴀʟɪᴛʏ;
For the most part, I tend to be sweet and obedient. I enjoy being called sweet and cute, thrive off of it really. In all honesty, I wasn't allowed outside much before, so I'm just a tad naive about how the world works, and am not up to date at all on pop-culture or the like. I've come from a well-off family, so things like chores and work make me cringe a bit, but I'll do my best. I won't hesitate to alert authorities if I witness any bad behavior, and am therefore a bit of a snitch. However, I am easily intimidated into obedience, so do with that what you will.
ʙɪᴏɢʀᴀᴘʜʏ;
Cherry's family is a slightly higher than middle class family, with a normal loving mother, over-protective older siblings, and an affectionate animal. The whole play was extremely tedious and boring, and so Cherry asked permission to leave the house. Of course, her parents said yes. How could they deny their little princess anything? And so off she went, on her own adventure.

Although she enjoys her new-found freedom, Cherry is having trouble paying for her room. She's going to have to find new clients if she hopes to continue staying in New Aurora, although she hasn't exactly been the social butterfly, has she? Maybe her inn-mates, or shop owners, or complete strangers would be interested in her paintings? She certainly hopes so.
ᴏᴜᴛғɪᴛs;



ᴍᴇɴᴛᴀʟ ʜᴇᴀʟᴛʜ;


Mentally sound- as a mute person can be, anyways.


ᴘʜʏsɪᴄᴀʟ ʜᴇᴀʟᴛʜ;


All is well with the exception of slight anemia and her inability to speak.
ʙᴏɴᴜs;


She uses a sketchpad to convey emotions or thoughts, and is never seen without it.


ᴛʜᴇᴍᴇ sᴏɴɢ;
x
ғᴀᴍɪʟʏ;
Mother :: Marianne Li
Father :: Charles Li
Brother 1 :: Charles Li Jr.
Brother 2 :: Jun Li
Sister 1 :: Mia Li
Mikadzuki of Wonderland