San_Katt
(?)Community Member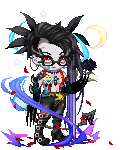 Posted: Sat, 01 Dec 2012 17:57:21 +0000
A tantrum might make Sable drag him out of there faster, but hey, totally up to you. Yeah, I see what you mean. I think I will have her text him to meet her by her locker before lunch, then she will ask him and they can walk to lunch together.
Yes, but the theories and stories going around the Faberry fandom totally make up for it, so do the manips, which I love.
No, I already had the coding figured out, it was a matter of adding another piece of coding and then organizing all the relationships I already had to fit the new coding piece. I will have to do the same thing with Seung's and Elizabeth's will be even worse because I have even more filling out to do.

I have to cut my time online, today until the fifteenth, so I can clean my room, because I am living in my sister's room at the moment, and she comes home on the fifteenth, but to move back into my room, we have to drain my water bed and put the regular mattress into the frame. I also have to leave time for getting my stuff out of my sister's room. I may not start cleaning today, but if I am off or unresponsive for a long period of time, it means I went to clean my room.
It was horrible, and it truly is lacking, After season like one, it started to begin to lack things, but now in season four, with most of the original cast barely on the show, yet it still manages to slightly revolve around the drama that is the love life of Rachel Berry, it almost is not worth watching anymore. However, I watch it for the little things, like Jane Lynch, Chris Colfer, and all the random witty banter that you have to re-watch the episode sometimes to catch. Sure, I may eventually stop watching it, once the original cast dwindles to Finn, Sue, Rachel, Kurt, Tina, Artie, Brittany, and the occasional Santana (because I do not consider Sam or Blaine part of the original), but for now, I will keep watching and grimace at Bram, which should never have even been thought of, Brachel, which should never have made it to the Thanksgiving episode, and will delight in all the little implications that tell me Faberry could be real, if only Quinn was not a repressed lemon, and Rachel did not have guys to distract her so much.
Tina makes the outfits, so even if they did have a small budget, after becoming National champs, you would think they would give her enough money to make new outfits, not just to reuse old ones. It was poor time-usage, despite how much I liked seeing Quinn and Santana slap each other, they could have shortened that scene, and they could have done some shortening in other places too, I am sure. Sadly, I had to watch it, and it was creepy, but they did, slightly, make up for it with the "Let's Have a Kiki/ Turkey Lurkey Time" mash-up which I found hilarious, mostly because of the look on Brody's face when he realized that his rule about no one breaking into song was being completely ignored and he was out numbered. Now I must go watch that video, because oddly enough, I like the song.