Wooden-Flashlight
(?)Community Member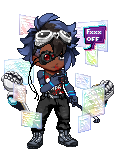 Posted: Tue, 25 Sep 2012 08:10:48 +0000
I'm desperately looking for some people to roleplay with.
You will have to pardon me for not bothering with fancy images or coding when it comes to search threads. To me, Roleplaying shouldn't be something based solely on images, if you can't get what you need from text, then you're not doing it right!
✐ I am a literate roleplayer. Basically, that just means I don't do script. I range depending who I'm with. I can write 5-page posts, or 10 sentence ones, depending on what my partner needs or wants me to do. I would prefer something with at least a few paragraphs, but I'm not that picky.

✐ Grammar is something I rather pride myself on, and if you ask me, I will correct you in it. But if you are worried that I'm a grammar Nazi, I'm not. I have excellent grammar myself, but I will not force you to. I'd like it if you could, but it's not a requirement.

✐I would like to roleplay over AIM. I also have Skype and MSN. AIM I find best for roleplaying because it allows italics, and has a rather long message allowance. Even so, I usually defy the character limit and type in a Word-pad like program first, then paste it.

✐I don't care about who pairs with what. I do all forms of pairings. However, as much as I adore doing romance, I don't want it to be the central of the RP. I also don't do love at first sight. One of my favorite things about roleplaying is the ability to interact with characters.

✐Fandoms! I LOVE to roleplay fandoms. Look below for what ones I'm seriously looking for! But for this, I must warn you. I almost always have an original character. That doesn't mean I'll only play them, though, in fact I adore playing canon characters.

✐Which leads to my next point, I NEED to play multiple characters. I expect you to do the same. Not always, there can obviously be times when there's only two characters, but there has to be group scenes as well. I play any kind of character, I do not believe in only sectioning out for genders. I do male, female, genderless, hermaphrodite, transsexual, all of the above.


✐Don't ditch! It's really, really awfully rude. If you're not interested, let me know. If you don't like me, or I've done something to offend you, Lord forbid, tell me. We can work it out. I won't abandon you.


✐I don't use real-life pictures. That doesn't mean you can't, but if for whatever reason you feel you need photos, I'm afraid I cannot help you. In addition, I do not use 'anime' pictures, either, all art of all of my characters was drawn for me, and it is art of my character, and my character only. My roommate is a phenomenal artist and I commission with Points over on DeviantART, so I almost always have a decent character model that is entirely originally created for me to work with.
Limitations


I sometimes have limitations of being online, but I am on almost all the time. I'm a freelance writer looking for a job, so I'm home almost all the time.

However, if/when I get a job, I'll be sure to let you know; don't worry, I won't abandon you. I'll give you due notice if I can't RP.
FANDOMS!
I LOVE roleplaying Fandoms! So here's a list of what I'm into!
✻
- Convince me.
❤
- REALLY want.
♚ ♛
- Please, please, please, please!
☜
- Never in a million ******** years.
♚ ♛
Avengers!
-For this one, I'd prefer it was based in the new movie; however, I am very well learned in old and new stories of Avengers, and if that's what you want, I'm good with that too. For the movie version, I often like to cross it over with other things- like X-men. I will almost always bring Transformers in for this too, but not in excess. I have OCs. My only real 'rule' as far as character assignment goes is I will be Tony Stark. Always. Also, I'd like to play Nick Fury, and I'd REALLY love to play Thor, and Loki too!!

Transformers: Prime!
-I ADORE the new Prime universe, but I also will do Armada, Animated, Movie, G1, and IDW. Personally, though, I do best in IDW and Prime. Mostly because Prime was pretty much made for me and how I see Transformers as a whole, even as a franchise. I have LOTS of OCs. I also love to be canon characters, especially Ratchet. The only pairing rule I'll ever have is no Knockout/Breakdown romancy crap. Because Knockout only cares about himself, and no one else. Also, no Wheeljack/Ratchet because that's ******** stupid.
❤
Death Note.
-I've never actually roleplayed Death Note, but I own the whole series [Manga and anime], as well as all three live-action movies and have watched them over and over. For this, I would more prefer it be an Alternate Universe where L does not die. [And really, who wouldn't?] I have OCs for this, but I would rather get opinions on them first before introducing them.

Buzz Lightyear of Star Command.
-Okay, if you haven't ever heard of this, that's fine. It's a decade-old TV series based on the Pixar character. Basically, it's the show that Buzz's toy is based on. Most of what I would want to work with involves the villain NOS-4-A2. I have OCs. I've never properly roleplayed this either.

Hellboy~!
-I LOVE Hellboy but I've never gotten the chance to just sit down and Roleplay it with someone. Often because the fandom is so small. I have one OC for it, but I would love to play Hellboy in this. It would be lots of fun to have a fellow Hellboy fan. I'm fine with slash and all that fun jazz.

John Carter of Mars/ A Princess of Mars
-This is a newish movie that came out earlier in the year. It's based on the novel A Princess of Mars, which was the world's very first Sci-Fi novel. I love the movie a lot, and if you know it, I would adore a roleplay based in it. However, I would mostly be focusing on the Tharks. Because they really got the shaft in that whole production.

Farscape!
This is a TV series from 1999-2003, and it was amazing. Sci-fi and wormholes and amazing aliens and auh. All of it is amazing. I have an OC and I am willing to be anyone, but I would love to play Moya, but not Pilot. Yeah, simmer on that for a while. I'd love to do this and have only ever RP'd it once.
Bioshock!
Yes! I've never done it before but the story [That is, the story for games one and two] really really impresses me. Take in mind that I've only played about 35 minutes into Bioshock 1 in which I only used the wrench and nothing else and then got too chicken and frustrated to continue. I don't do well with first person games but I HAVE seen the entire of both games. I won't touch Infinity or whatever with a ten foot pole though.
Invader Zim~!
Never roleplayed it, but I have written it before. I have a couple of characters and would like to play Zim and Tallest Purple. Actually I'd be willing to be anyone you want me to be, it would be fun! So I don't have any plots or anything but I'm up for whatever you've got in mind!
District 9!
I ADORE this movie and the whole concept. I have lots of alien characters and would love to do something with them, it's been a long time since I've made them. The whole culture of the Poleepkwas is completely up to individual 'head canon', so I'm more than willing to make debates on how that should flow. More than anything I'd like to work with original characters as well as the canon storyline from the movie.
✻
My Little Pony: Friendship is Magic.
-I'm not a "brony" or a "pegasister", but I do own and run one of the biggest groups on DeviantART, and it's for MLP: FiM. I do love the show dearly, and I love the characters. I have my own, and really, what fan doesn't. I've never really worked with them but I'm willing to try. My only thing is that I want to keep it PG, PG13 at the most for this one. I am paid to write terrible things for the show already, and I can honestly say it's awful for me, so I'd rather not bring that into the RP. I won't throw stones because I've got my own glass houses, but "clopping" is not something I ever want to do in my free time.

How To Train Your Dragon.
-I don't have characters for this, but I know it's popular and I can say I love it. It would be something new I'd be willing to try!

Watchmen.
-I only have one person I've ever done Watchmen with, so I'm a little "eh" on doing it with anyone I've just met. You'll have to convince me that you can play the characters well, mainly Rorschach. If you can pull him off, you'll have my heart. That doesn't mean you will have to play him, but if you CAN, then sign me up as your b***h.

DC.
-I love DC, even though I am more of a Marvel girl. But I will do a DC, or a Marvel/DC crossover if you have good enough ideas. Just keep in mind I am not as well learned or keep up with as many DC storylines as I do Marvel. I have not seen the new Batman movie, nor do I have any real inclination to. But if you are itching, just let me know what you have in mind.

Kingdom Hearts.
-Again, I've never roleplayed it, but I know the story inside and out when it comes to the first three games. I never played Birth By Sleep because I don't have a PSP, nor the new Dream Drop Distance for the same reason, but I have played the first, Chain of Memories [GBA and PS2 versions] and Kingdom Hearts II over and over. I have an OC but I'd like to see if you would like to use them before just tossing them in there.

Okami
-I love this game, not so much the prequel. Moreso I like to pretend the prequel game for the DS is an alternate universe fan-made game. Regardless, another game I've played inside and out, and would love to play in. No OCs for this one, but I think I'd like to make some if you would be willing to let me.

Pokemon
-I have a trainer and all that, but I'm only familiar with the original 151 and the new Eeveelutions. Sorry for being a "Geewoner" or whatever but that's just the way I am. I have no interest in any other Pokemon but if you're willing to work with me in G1 then shoot.
☜
Hetalia!
Homestuck.
Twilight.
50 Shades.
Halo.
High School RP's
Plain, real-life crap.
Most Anime. Try me with a title, but it will probably be no.

For Original RPs, I generally as a rule of thumb don't do them. I just don't find them very fun, especially if they're all real-worldy and stuff like that, I find that horrendously boooring! But, if you have come this far and still want to talk to me about an Original RP, go ahead and try me. You'll have to convince me into it because I REALLY love Fandoms, but who knows, a spark might be there.
In Closing



So after this big ol' wall of text and you're still here, huh? Well I suppose that means you'd like to contact me! Go ahead and add me to your AIM, my name there is ZBuuZa. Message me, or PM me here to discuss.

A little random info about me personally, I'm 20 years old, will be 21 in November. I have a new kitten who likes to hang off my limbs so she might make me slow at replying, but don't worry I will let you know when she's being evil. I live in an apartment with a roommate.
I think that's everything! Once again, my AIM is:
ZBuuZa

.