Io[dream.eater]
(?)Community Member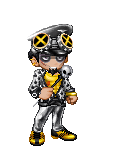 Posted: Sun, 25 Mar 2012 09:35:08 +0000
Hello AT
I've been having this idea for a contest for a few days now
so I'm trying to find a way of making it work.
The reason for this contest is to test if the methods I have thought of
would work on a long-term contest.

The contest will last 3 days, starting from the moment I get all the contestants I need.
There's no entry fee. The winner will get 3,000g.
I'm not sure if I want/need another judge, but PM me if you're interested. I won't hire people I don't know. Sorry, but I don't have the time to test your rating skills for a 3-day contest.
There will be only one round per contest. There's a waitlist in case you want to be informed when the next contest starts, so let me know if you want me to put you there. Waitlist is not insta-join. You need to PM me the form again to join when the next contest starts.


Judges for this round: Io[dream.eater] || Sifen Yamishi || ??
A further comment on Dream Free
Social Bondage, from the AVATAR ASSEMBLY LINE thread

well let me explain what we mean a bit. The above avatar has two layerings inconsistent with Gaia, one we'd accept and another we wouldn't.

In the top half, the gogh reed and fleece vest are both "vest" layer, and thus can't equip. But many people would agree, that the gogh reed desert wrap often serves as a sort of belt or sash for avatars, and roughly would rarely look as ridiculous as actually wearing two vests simultaneously. For that reason, we'd accept this layering.

On the bottom, we see a pair of jeans layered over another pants layer in a way that looks ridiculous. The underlying pants can't even be distinguished as pants, or as anything that the avatar might actually be wearing. It is simply a blob of color, which just so happens to still be visible after the second pants are awkwardly layered above it.

If, say, we had taken the SP work pants and layered them UNDERNEATH those jack puffed pants, the layering would be much more realistic, as the sp work pants would look more like a second pair of pants that are sometimes worn underneath puffed breeches.

But over, it becomes awkward and forced.