Anhelitta De Celine-Val
(?)Community Member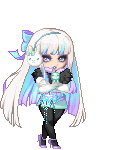 Posted: Sat, 07 Nov 2009 19:19:51 +0000
Welcome to my thread on the avatar arena winners!
As you can see I enjoy Pumpkin Scissors so much I named my critique thread after it smile
In case anyone wants to check it out, here's a trailer to get you started...
Here I hope to have civil discussions on the winners of the week as well as post some of my personal favorites in both arenas. Please note that I am not judging based on matching, layering, etc. I like to keep things simple if at all possible. I like to be able to tell what something is without having to go cross-eyed trying to figure out what item got used where. As for cosplays I go by as close as I can see they are to the ref pic without having to squint at the ref pic. I wish they would make them bigger!
TIME FOR A REVAMP-
PUMPKIN SCISSORS
STYLE!
Changing this up again because I just don't have the time and energy to pick things to shreds.
Score will still be based on 1-5 point value as seen above.
I will mention something or many things that I liked about your winning entry-Badges of Honor
I will also mention something or many things that could use improvement-Redeeming Missions
And if your entry received a 2 or lower because there was just too much wrong with it you get-Dishonorable Discharge
Here are the rules people, obey them or I'll stab you with my pigsticker!
1) Obey the Gaia ToS-obviously! Nothing inappropriate is to be posted or shared in this thread. No spamming! Spammers are reported no ifs, ands, or buts about it.
stressed
2) Be respectful to other people on this thread-everyone is entitled to an opinion but that doesn't include cussing out others because their view doesn't match yours. Deal with it nicely! That means no drama people, if it goes on for more than a couple posts I will deal with it myself scream
3) You may discuss things but no whining!
wahmbulance
If you are mad about something someone said about your winning submission then explain why you did what you did! If you are mad at me don't bother reading this thread then, I really don't want to have to deal with sore-winners or losers. No flaming!!! This is the internet and you only see what I choose to show of my personality-so no you don't know me at all!
stressed
4) No obnoxious post pics or outlines please! Keep it simple people! smile You may post some of your favorites too, I enjoy discussing likes/dislikes wink And I also love it when people post tekteks-go right ahead!
5) Don't take this too seriously! If you won, be proud of yourself! Yay you spent a lot of gold and won maybe a little bit of it back plus some new friends and nice comments...*gives a pumpkin sugar cookie*
A little addition to show I appreciate thread regulars, the Orange List:
Emo Kuroumi Nui
Trillium Fae
Sifen Yamishi
More names to add later...
Hate to do this but no bad deed goes unpunished...THE BLACK LIST
darkkid567-for spamming repeatedly despite rule number 1. Ignored and reported.
Draw your sword-I challenge you to a duel over the fate of the arena!