Naya Merai
(?)Community Member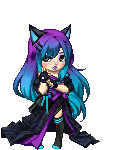 Posted: Tue, 23 Jul 2013 01:53:52 +0000
Gendocide
Zefius
Gendocide
Remember in the bustling days of Gaia's juvenile life when 70k users online was totally normal?
I do. Even if most were bots.
ninja
They were friendly fishing bots
I'm still irked at the fact I can never be a Gaia staff member because I've been banned numerous times
Granted, all bans were actually false bans and they were all lifted as soon as I showed staff my innocence, the sheer fact the site thought I was up to something bad and acted on it just because lost me that opportunity yet I know users who did scam and bot wound up finding a place on the staff some time or another


Yeah I got really annoyed that I couldn't even be an FA originally because of my one and only "inappropriate content" warning point against my account. Inappropriate content might I add, that was fully clothed art I linked to in a url link and clearly informed first of what it had in it. The original mod that warned me told me I linked to and warned what it was in the wrong forum and it didn't count in CB. That one and only inappropriate content warning I ever got is why I can't be an FA.