Child Wren S Ift
(?)Community Member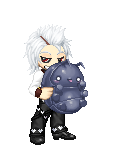 Unbeatable Genius
7,950 Points
300

250
Posted: Sun, 12 Feb 2012 17:20:11 +0000
For those who don't understand a dirty art shop you must walk past all the good ones. You look at them then you look at the prices to see all their blinding colors, fancy name tags, amazing art, and even amazing clothes that the artists wear to attract attention to their shop. Finally you gotta decide if its really worth the money or even effort to try to earn the money. After passing all those shops you see a very dull looking one. The sign on the shop is broken and hanging by a single thread and by some miracle it hasn't fallen off yet. The art it has on display is crappy and almost pointless so you decide to pass by it without even looking at the price tags. You don't want to do with anything that involves crappy art. You want the finest money can buy and the art shop beside it has cheap prices AND its amazing quality. When the artists asks you to describe your art or show an example you do your best to do it until you finally notice you can't describe the pose you want the art to look like. SO after ordering the art you come back after a while to check in. You see the art is good
but
you don't like the pose. You don't blame the awesome artist and pay politely without complaining about it. Looking at your wallet you're now poor. Good art costs good money even if it is "cheaper" than its competitors.
You walk away disappointed and happy so you window shop. Again you see the ugly eyesore of a shop owner.

Deciding that it might be not so boring you look. You talk and find the art is less than crappy and most of it is just stick figures. But WAIT the stick figures have some cool poses that you think might have worked better for the picture you just paid for. Talking to the owner you find out about the shop a little more. The artist seems to take a liking to you and pulls out a few of the better pieces. He points to one of the pictures of man sitting on a thrown and tells you that he drew it. You ask him why he even bothers with stick figures as his advertisement and he merely replies,
"If you are interested in this art show then you wouldn't judge it by the cover pages".



NOW THAT YOU ARE HERE.. the purpose of this shop is to provide you with the BASIC descriptions, ideas, or action poses that normal words or pictures cant do for whatever reason. By using these you can use the ideas, pictures, drawings made here to allow a better artist to fully utilize their talents without being limited to just a verbal request. This includes creating backgrounds, character designs, and life-like actions. Most of the time I'll take 3 minutes to complete your request and have you on your way with something that others can use.


Intro, Samples, rules, prices, orders, completed forums, affiliates, misc.