QuickerPickerUpper
(?)Community Member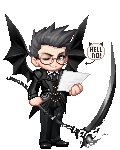 Posted: Tue, 29 Jan 2013 23:05:50 +0000
Oh I hate it. >> And I don't like swimming either...I have this phobia about deep water. I like shallow ends. v.v I enjoy things like...soccer. But I can't really go out and play soccer anywhere around here. :< Bleh.
And yes, do play Scrabble. Like..the actual board game. I'm so sad that Scrabble has been like replaced by that digital version called Words or something stupid like that. I like playing actual games, not just digital ones. :< Like monopoly? YOU NEED THAT FAKE MONEY IN YOUR HAND FOR IT TO MEAN ANYTHING.
Awww, I like Fred. She was sweet! And dorky. xD Plus, the actress is freakin' hawt *heterosexual moment* I looove Wesley and Lorne, especially when Wes gets all dark. + + Sexy beast. I still think season 2 was pretty good...and I like season 5 because they brought the fun back and Spike. And Spike? Soft? xD Sweetie, he's ALWAYS been soft. Don't you remember all the flashbacks to when he was human and then all the love problems he had with Dru? He's been a big sap all along, only this time with a conscience. I STAND BY MY SPIKE LOVE.
WHUT. BLASPHEMY. Good on you for converting him, I need to watch the movie again too. My roommate doesn't like it as much as me, it's very sad. I wish you were here with me to watch it. :<
Ahahah, I take it you don't remember what happens to Bucky. xD He becomes the Winter Soldier, so he and Steve are pretty and young even later. + + But I agree, Thor wasn't too great either. I think they were just in a big hurry to get their s**t together for Avengers. I do love Tony/Pepper though...Their relationship is so great. xD Partly because RDJ is the perfect Tony and I enjoy Gwyneth Paltrow. Did you see the trailer for Iron Man 3? It looks like it might break hearts >>
Awwww, fine, don't watch it. xD But you are missing out some sheer gold (Though this season is not as stellar as it got in season 2). Let me know if you decide to watch it! Lessee...recently...my roomie made me watch the first six episodes of Pretty Little Liars with her. That show is...dumb. xD Like, it's always on the verge of plot and then nothing actually happens. I'm literally just watching this show with her because I like mysteries and I'm curious as to what the ******** happened that they keep dropping tiny hints on.
Uggghh, Pho is so great. I miss the place in Cali so muuuuuch. I miss all the food places in Cali, really. >> I have not found decently priced and good asian food anywhere near me. Though there was this nice Thai place near Times Square that didn't break my wallet. Green curry fried rice... @_@ It was seriously good. I didn't think I'd like lychee and bamboo shoots in a fried rice, but it was delicious. :<
And my birthday is on Feb 21. xD Gaia lies and will say it's some other day in February, but it's the 21st. I'm gonna be so oooolld.
...Suddenly craving Doritos. Hm. Anyways.
And sure? :,D I can try and help, I dunno how valuable my input would be really. But send me stuff whenever you got time!