Huggleberry Finn
(?)Community Member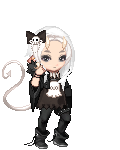 Posted: Wed, 11 Apr 2012 17:35:27 +0000
WELCOME,

to my hopefully permanent grab bags location.
++++++

Well hello there! I've missed all of you, even if you don't remember me, or don't know who I am. My name is Finn, and I'm here to draw for you.



++++++

The last time I opened up a 'grab bags' joint, I had a lot of fun, but it was temporary. The people I met were all great people, and even though I didn't accept all of the orders that were thrown my way, some even continued to stay to chat. All of you were so very kind to me, when I needed the reassurance that I still had the ability to draw on cue.



I want this place to be a permanent place for me to consider all of your offers. I won't be drawing as often as my temporary locations, because this one is more long term. What offers I get will be documented and saved for a later date. Like all grab bags, these slots will be cheap.

100% of my decision will go towards what
you're asking me to draw, not the amount in
which you're paying me.

*

Feel free to offer me whatever you want to pay me. I'll give as much consideration to a 1k offer as I would to someone offering me millions (offering me millions here would be silly, just so you know). I have commissions on my list that will be taking precedent. I have some auctions I have yet to finish my promised piece for, and outstanding commissions from a long time ago. I will no longer be accepting serious commissions on gaia unless they were by auction.

Don't even bother asking, sorry!

That period in my life is passed. From now on, if you want something serious from me that takes up a lot of my time, you'll either have to win one of my auctions, which are rare now, or you can purchase a slot for real money. I don't expect you to do either, but I want you to know what this place is to me.





++++++

I'll be starting University life later in the year, and the time leading up to that will be used working on my portfolio and honing what skills I can before once again receiving formal education, that I've had to put aside for academic courses.



++++++

This being said, I still want to draw for you! That's why I'm opening up this place. Depending on just how inspired I am by your offer, you may even get something rendered, either partially or wholly. Some things will just be doodles, others will be colored, it really all depends and not on how much you give me. Just tell me what you want me to draw.



++++++

I'll be using this place as a means to warm up, let loose, and exercise my brain and my hand. When I'm starting a serious drawing, I'll go back to these offers and stretch my brain. Maybe I'll come here when I'm bored and don't feel like I can draw my own characters.



MOST OF ALL, I WANT THIS PLACE TO BE A PLACE FOR ME TO HANG OUT AND SOCIALIZE AS WELL AS DRAW.





++++++

Even on days when I can't draw, I'll still be here to socialize, and I'd love for you to join me! I'll answer any questions, and if you would like some drawing advice, I'd be more than willing to help you out there too. I'm actually pretty silly when I let myself go.
*
- In addition, I'm not accepting offers over 100k as of 4/16/12
This will make things much less complicated for all of us.
(I didn't think I'd have to mention it but you guys were way too generous for grab bags. [/shot])
I love you anyway!