BellaMuerte1
(?)Community Member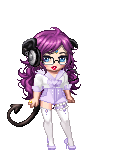 Posted: Sat, 13 Sep 2008 20:00:39 +0000
UPDATES:

6/9/14-As some have heard I got engaged just over 2 weeks ago to love of my life. We've been dating for just over 5yrs but have known each other going on 13yrs. So with that said I do plan on moving hopefully early next year to where he is. And in order to do that I need a little help..><'
here is my DA for more info- CLICK ME!


4/13/14-I've revamped my shop for the most part. And redone what I offer (don't worry I will offer busts and thigh ups they are just lined and colored now). And sadly I've had to redo my pricing as well to keep up with this crazy inflation. i hope you all understand. ><'

4/7/14-Thank you for all the birthday wishes! I had a fantastic birthday! heart
I'm currently working on my last shop order left then I will be revamping my samples and prices. I'm debating if I might just take out my lineless and offer that for auctions and RLC only. And just do lineart and lineart/colored work in this shop. Prices may be bribe only until I can get a hang on what I should charge because I know my current prices are much too low and I'm terribly undervaluing myself. sweatdrop Have a lovely day!

3/2/14-I'm revamping my shop's prices. I feel that not only with gaia's crazy inflation and in general I am undervaluing myself with how much time and effort I put into my art. However if I have previously given the ok on other orders currently then you don't need to pay more. heart Also I think I may be adding lineart to my list to offer up soon!

1/26/14-Nothing much to report. Just been very stressed out, and trying to get more rlc's to paybills. ;-;
But a very happy birthday to my friend Princess-Fanoria-Pagan!
6/24/13- Please read my DA journal. Going through a hard time and I need all the help and support I can get.
DA journal link-help..


4/6/13-Happy Birthday to me! xD
2/5/2013 RLC's are open and high priority, shop is open too.
2/5/2013 revamped layout,samples and prices.
4/26/12-revamped prices, will redo some samples later.
11/25/11-Shop revamped and reopened! Also with my most recent samples.
RL
-
Always open Go here for RLC
Shop
-
Open
Introduction

I Rules I Samples I Prices I Slots I Links