Generic Label
(?)Community Member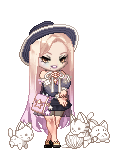 Posted: Fri, 02 Mar 2012 21:23:42 +0000

Status: [

Open

/Busy/Closed]

Please
this thread


And by Temp-Shop I mean sorta-kinda-maybe.



Song of the day: (ノಠ益ಠ)ノ彡┻━┻
Quick Intro:
Sup. My name's Generic Label, feel free to call me Gen though. I'm an 18 year old Gaian just trying to make some quick gold like everybody else. I've been on gaia since 06, but on this account since 08. I've made art shops before and I enjoyed them but lately I've been busy with college-life, so In order to get some quick cash I decided to open up a Temp Art Shop. Welp, Here it is.

Things about me I feel you should know, I am kinda lazy and a procrastinator, I ain't even gonna lie. Which is why I'll only accept 2 slots. And I want to make it clear that since I am lazy indeed, that you may grant me the privilege of being patient with me. I will try my best to get it to you fast and on time. Also, in my defense, I have a life out-side of gaia and I will be busy, so I hope you can all understand.

My style tends to change a-lot, but I tend to try and keep it the same no-matter what. I love experimenting with styles so sometimes I will dab around with that a bit, but don't worry It won't happen often I promise.

Now let's get to the fun stuff, the rules.
1. Never quote the first post. never. If you do I will not take your order and I will delete your post.
2. I have the right to change/add any rules as I see fit. My thread, my rules.
3. Not obeying any of the rules will lead me to ignoring you.
4. Have patience, porfavor.
5. No begging.
6. Do not steal any of my art-work, as crappy as it is believe me it's not even worth it. Plus I'll have to throat punch you.
7. Follow the TOS.
8. I have the right to cancel an order if I want to, within a given reason.
9. Overall just be nice, I'm a nice person and very lenient so no reason to be rude/mean.

I'll do just about anything except Pornographic types of drawings, Furries, or Mecha
Some of these samples are old because I haven't done much drawing due to school in a while.
[XXXXXXXXXXXXXXXXXXX]
[XXXXXXXXXXXXXXXXXXXXXXXXXXXXXX]
[XXXXXXXXXXXXXXXXXXXXXXXXXXXXXXXXXXXXXXXXXXXX]
[XXXXXXXXXXXXXXXXXXXXXXXXXXXXXXXXXXXXXXXXXXXXXXXXXXXXXXX]
[XXXXXXXXXXXXXXXXXXXXXXXXXXXXXXXXXXXXXXXXXXXXXXXXXXXXXXXXXXXXXXXXXXXXX]
Full Body: 100k
Bust: 50k
Head: 20k
Chibi: 15k
Line art: 25k [No matter what you order, same price]

You can choose between Traditional/Digital, if you choose Digital

add 10k to the price

.

Example) You want a Bust done digitally. 50+10= 60k. Simple math.

For traditional the prices stay the same.

For couple/group art work add 5k per person.

Example) I want a bust of me and ____. 50+5=55. I want it done digitally 55+10= 65k.

I want a Head drawing of me ___, ___, ___, & ____. 20+20 (5x4= 20) = 40.

Simple right? Who said Gaia isn't educational, pfft.
[Quote="Generic Label"][/quote]
[size=16][b]Username[size=9]>>[/size][/b] ~put here~
[b]What I want[size=9]>>[/size][/b] ~Full body, bust, etc here~
[b]Traditional/Digital[size=9]>>[/size][/b] ~put here~
[b]Reference Pic(s)[size=9]>>[/size][/b] ~Insert image/link of avi(s) here~
[b]Overall Price[size=9]>>[/size][/b] ~put here~
[b]Any last words[size=9]>>[/size][/b] ~put here~[/size]
What It should look like:
Username

>>

Generic Label
What I want

>>

Full body, Couple art.
Traditional/Digital

>>

Digital.
Reference Pic(s)

>>

~Insert image/link of avi(s) here~
Overall Price

>>

115k.
Any last words

>>

Could you make us look sexy, blah blah blah c:
[1 AVAILABLE SLOT OPEN]
1. iiDark_AngeIz [Group Chibi] Pg 5.
2.

Completed Work:
Little Hitsugaya
,
THE BAD LADY
,
B O O !
,
Gorerotic
Btw, I made it all fancy like just incase I wanna make a full-time Art Shop some time ya know 4laugh