AngryCello
(?)Community Member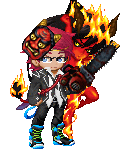 Posted: Tue, 11 Sep 2012 01:09:42 +0000
gaia_crown
- On Break -
gaia_crown
Slots are:

On Hold
If you happen to wander in while all slots are full, you can still leave a request. We will put you down as a pre-order for the next slot that opens.

Sorry everyone, I'm taking a short break from taking on new art requests and won't have much time to dedicate to producing art for the next few weeks. If you have your heart dead-set on commissioning some of my artwork, and just hadn't gotten around to it beacuase my slots were too full, or you were short on gold, you can still leave me a request to look over (I might be able to make time for a relatively simple picture or two), but I can't guarantee that I can do it any time in the near future. I really appreciate the support I've gotten so far, and all the people who have bought from my shop, or considered doing so 3nodding

Slot 1: (On hold)
Slot 2: (On hold)
Slot 3: (On hold)


Greetings, all! I am AngryCello, and I like to draw.

gaia_star Thank you for browsing my shop, and have an awesome day! gaia_star
Please post requests (Embedded spoiler images. No hyper-links, please.). I will reply to you via quote, unless you request pm's.
- Format -
You can copy what's inside the code box to make ordering easier.


[b][u]ORDER[/u][/b]

[b]Request:[/b]

[b]Reference Pic:[/b][spoiler][img]YOUR LINK HERE[/img][/spoiler]

[b]Preferences:[/b]

[b]Text:[/b]


Example:
ORDER
Request:
Single, full-body, deformed, black and white, sig
Reference Pic:
Preferences:
something sexy
Text:
"BoomBoom" somewhere in the pic, please.
- Pricing -


Bribes are not necessary, but tips are much appreciated if you really like the art. heart

(Until I have enough material, examples of my art will be posted in my journal.)
Styles (See second post for examples):
Please add up each step for final price.
Step 1
Single Avatar(human, vampire, grombie, zombie, zurg):.... 90k
Single Avatar(centaur):.... 120k
Couple Avatars (male+female, male+male, female+female):... 180K
Large Companions/equips/third small companion (male+female, male+male, female+female):.... 160k
Step 2
Full Body (Available in chibi and super deformed. Normal = waist up):..... 50k
Bust:.... 20k
Face Only:.... 10k
Step 3
Black & white:... Free!
Colored:.... 50k
Step 4
Super Deformed:.... 10k
Chibi:.... 25k
Normal:..... 40k
Step 5
Sig (edited down to fit within 500x500px, and under 100kb):.... 15k
Banner-sig (edited to fit within 500x200, with custom text, under 100kb):.... 30k
Full-scale art (uploaded at the resolution I scanned/colored):.... Free!

In the example, CheChe requested a single human, full body, deformed, b&w, in sig format. That would be 90k+50k+10k+free+15k= 165k
The end result would be something along the lines of this:
gaia_nitemareleft
Important: Please Read before posting
gaia_nitemareright
Please do not quote the first post.

I have the right to decline commissions and certain requests, and will inform you if I choose to do so.

If you request a Black and White picture, and decide later that you would like it in full color, you can submit a request to have it colored for a 55k fee (the extra 5k is for me having to find the project and sample pic again sweatdrop ) Similarly, if you request a full scale picture, and would like a sig or banner sig out of it, I will do that for 20k or 35k, respectively.

I will NOT color random submissions of your own art or of other people's artwork, nor will I make sigs or banners out of them. I respect original artwork as the property of the person who drew it, and hope others extend me the same courtesy.

I will not draw pornographic material, anything offensively-directed to other people, nor anything that violates Gaias terms of service. Tastefully sexy is OK though.

Please keep it reasonable. Extremely cluttered avatars and very intricate requests are very time-consuming. While the order process is generally first come, first served, I might occasionally skip an extremely detailed request in favor of getting some simpler requests finished first, to clear backlogs before coming back to you.

As much as I would love to draw for everyone, there may be times where I am insanely busy IRL and will have to decline/cancel commissions. Of course, on such occasions, I will not take new commissions nor money, and will inform you of this by editing the topic title, and sending pm's to any people with open commissions. I will give the option of waiting out the storm, if you really have your heart set on being drawn.

CheCheBoomBoom is helping me manage and moderate this shop - Please be polite. heart