Sventeen
(?)Community Member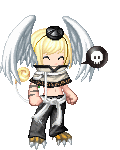 Posted: Sun, 08 Apr 2012 10:42:10 +0000
hi i made inazuma eleven ocs because ive literally lost control of my life
no regrets... just sakka...
AND WELL all i have of them ref-wise are really terrible mspaint headshots that i drew myself on a laptop touchpad
needless to say i want some better refs
i have two of them!! well technically three but idk if im care enough to get art of the third so for now ill just post the two
their hair is hilariously anime feel free to interpret it loosely if it helps
this is hikitsuri ibuki!! he's a first year (13 years old) and a midfielder. his parents forced him to join the soccer club after he began holing himself up in his room with the internet
he's 5'2'' and scrawny with pale skin, black hair, and dark eyes.
he's a very timid person and also very worrisome!! he spends a lot of time thinking about exactly how many ways he could be hurt or killed doing whatever it is he's doing and it really gets to him. he's very fidgety and easily startled. though a nice kid who doesn't mind the company of people he trusts, he's very introverted and excess attention stresses him out.
he is really not cut out for something like soccer but his parents hope that by partaking in it, he'll open up a bit!! because he's the kind of person who doesn't hesitate when he bolts, he works best zipping about-- though he really needs to hone himself better before he can really take full advantage of his abilities!!
and this is wanizame kaito, a second year (14 years old) striker (though he's relegated to defense a lot of the time because of certain reasons...)
KAITO IS... A SHARK BOY.... illegal genetic engineering was most surely involved. dont look at me like that inazuma eleven had similarly stupid concepts TURNS MY HEAD...
he's 5'5'' with sharp teeth, tan skin, steel grey eyes, and blue freckles on his face! his bangs cover HIS right eye. he wears bandages around his neck to hide his GILLS.... he tends to tell people who ask that he got into an accident or had some vague sort of surgery...
he has A LOT of energy and this is really really obvious in the way that he conducts himself! he talks very enthusiastically, is incredibly expressive, and makes a lot of grand gestures when he talks. plus, he's almost always moving, if not walking around, then just tapping his feet or bobbing in place-- it's all pretty much like he's trying very hard to burn that excess energy off! he's not exactly antagonistic, but he is very much obnoxious, and enjoys teasing people and getting reactions out of them. and while it's hard to get him mad, once he is, he pretty much can't settle down without taking it out on SOMETHING (he's terribly prone to violence when he's angry). he likes a lot of excitement and becomes restless very easily.
he technically works best as a forward but once he has possession of the ball he goes a little feral and always attempts to make the shoot by himself. he can't control himself very well, though, and almost always ******** it up or gets stopped in his tracks. thus, his coach has put him on defense until he can put a cap on his ridiculous predator impulses!!
as far as clothing goes, their soccer uniforms are black with dark brown sleeves, white collars, and purple stripes starting from the middle and going down to the bottom, with black shorts.
casual wise, ibuki tends to dress in darker colours, and favours long sleeves, jeans/pants, and scarves. kaito likes really fly-a** jackets and vivid colours and idk go crazy djfhfkd
you can draw them interacting with soccer balls if you want!! or with nosebleeds because im sure they get hit in the face all the ******** time cuz theyre a bunch of losers (kaito would probably find it cool, ibuki would be crying like a wimp)
post samples and prices please and if you have any questions just ask!! *v*