Hissra
(?)Community Member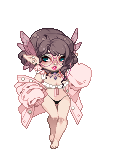 Posted: Mon, 05 Nov 2012 21:25:30 +0000
I'm trying to get as much as I can get, so bare in mind I'm not wanting to spend all of this in one place.
my Anthro/Fursona
She is a
White Tailed Deer
another fur refferance
Finally have a Ref Sheet for her!!!!
This is what she looks like
Though she is 21 she is very innocent and caring, loves sweets and fruits.
Her antlers are a birth defect seeing as normal does don't have antlers but when she became a teen they started to grow anyways. She also had a paw print tattoo on her back over her left shoulder blade, Now she has started to dye her hair a light pink.
she is only 5'5"
Gauges she likes to wear!!
click
Her Outfits!!
She is rarely seen in the black dress though. And the one with the full white poncho thing covering her is mostly for winter
I don't have a ref of it but she likes to wear plaid button up shirts with white t-shirts and cut off short shorts, SHE NEVER WEARS PANTS, just skirts and shorts, and the occasional dress.
Okay the outfit I have now doesn't have everything on tektek yet :/ but here is what I could find
:p
Thinking of letting you guys draw out my Charmander Gijinka Elli
My Charmander Gijinka
you can look in my DA to see the whole outfit...and under the pic is a little bit about her
I can not do RLC's because I lack in actually money and only have Gold.
If you link me your art or are offering put this ->
emotion_brofist
in your post so I know you have actually read this.