Reko
(?)Community Member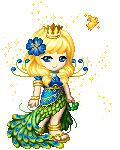 Posted: Tue, 01 Dec 2009 05:06:26 +0000
1.
Consistency
: If you have a bunch of examples that all look different from each other, I probably won't commission you.
2.
Full Body
: Unless you do fabulously detailed portraits.
3.
Lineart or Color
: Again, unless you do really detailed sketches.
4.
Polished Traditional or CG
: Yet again, I am willing to make exceptions, I like messy/sketchy art, but this is what I am looking for in general.

Information regarding art trades can be found in my second post.
I have gold, and I have old Monthly Collectibles. I would like art to get art of all of my characters in exchange for these things. Now that I've gotten quite a bit of art of my characters, Elwen, Masozi, Ayira, Aboyo, Mahealani, and Erelda... I would like some drawings of sweet little Sol. Interested? Read onward!
Name:
Sol
Age:
20
Gender:
Female
Height:
5'5"
Race:
Faerie kin of some sort.
Class:
Daydreamer
Physical Description:
I can't quite tell because of her layers of clothing, but I assume she's a well shaped girl. A bit of a pear-shaped figure. She doesn't seem to like showing skin, that's why she's layered all of those shirts, wearing stockings even in the heat of summer, and draping herself with jewelry and scarves. It doesn't always match, but somehow the jumble of styles and colors suits her. Typically seen wearing boots of some sort, and sneakers on occasion. She has a small heart shaped face with a button nose and dreamy, green eyes. Her hair is a bit messy, though, held up by all those lovely pins and hairsticks. She even tucks pencils and brushes up her bun sometimes. And yet, she still doesn't manage to keep it all out of her face! Her skin is but a few shades lighter than her hair, but her cheeks have a rosy glow. Pointed ears protrude from the fall of silky silver hair, pierced a few times.
Character Personality Details:
A quiet girl, often lost in her own world that she creates in her mind and on paper. When these fantasies are interrupted she is friendly, speaking sweetly and softly. Some people question whether her manner in public really reflects who she is and whether or not she ever comes out of her dream-like state. Though, with her fair coloring, her appearance is moon-like, she radiates a sort of warmth and good will.
Other Notes:
A Pisces. You may use the references below for her outfit, or create one of your own, but keep in mind that she doesn't like to show a lot of skin and has little fashion sense.
References:
For more images of Sol by other artists, go
here.
Erelda
Name: Erelda
Age: 269
Gender: Female
Height: 5'2"
Race: Elf, Drow
Class: Mage
Physical Description: Her body is slim and lean, with an angular face and dainty fingers. Though she has a humble bust, she is a little more round in the rear. Ebony skin offsets the feminine vines and spirals of silver tattooed down the right side of her body. The elegant art begins at the corner of her right eye, traveling down her neck and shoulders, crawls across her chest and stomach, wrapping around her thigh, and tapering to an end at her big toe. The inside of her hands look like an Indian bride's, but in shining silver. Her hair is soft, silky, and stark white. It falls just past her shoulders, with bits of it getting into her eyes sometimes. Her eyes are a brilliant, electric blue, cold and piercing. Her boots are soft, slouchy and come just above the ankles and her stockings rise above the knee. Shorts are mostly covered by a long and tattered skirt wrapped at her waist, and she wraps fabric about her chest, tying it behind her neck. Though not always present, she sometimes wears soft gloves that come neatly past her elbows. The entire outfit is white, but she sometimes uses magic to make it black to suit her needs. When traveling, she has a heavy black cloak on hand, and a staff that is sometimes crowned with a large crystal.
Character Personality Details: After entering a conflict with her priestess sister, Erelda left her home to wander, an outcast. She is bitter, cynical, and sometimes cruel. While she does not actively seek to hurt others, if it is profitable, she will show no hesitation. Being over 200 years old means that she is slow to anger, but she delights in a fight when she has been roused. Traveling by night, she enjoys playing tricks on other travelers, using her magic to increase tension and fear.
Other Notes: Loosely translated, the name she took means "moon trickster."
References:


For more images of Erelda by other artists, go here.
Mahealani

Name: Mahealani
Age: 26
Gender: Female
Height: 5'4"
Race: Human
Class: Merchant
Physical Description: She doesn't have hair like the moon because she's the oldest of the sisters, or because it looks good with a tan, but I can't actually tell you why she has that white, well-kept hair. Or why every sister has differently colored, but equally absurd eyes. With Mahealani, they're electric blue. Like the oceans she works near... Which is why skirts, dresses, short jackets, and thinner materials are preferred. For her profession, she tries to look presentable by wearing a ribbon around her neck, and that fancy crescent shaped hair pin in her hair... and contrasts laughably with the plain work gloves she needs to wear.
Character Personality Details: Loud, outgoing, and very clever. She's a salesman to the core, but is charismatic enough that she doesn't feel it necessary to coerce consumers. Like Ayira, she can have a bit of a short fuse and tends to defend her beliefs violently. Being the big sister, she feels it is necessary to mother and protect her three younger siblings.
Other Notes: Her name references the moon. Clothing and colors are somewhat negotiable.
References:

For more images of Mahealani by other artists, go here.
Aboyo
Name: Aboyo
Age: 24
Gender: Female
Height: 5'6"
Race: Human
Class: Priestess
Physical Description: Fairly conservative in her dress, considering she is a priestess. She favors older fashions, which contrasts with her rather outlandish green hair and lavender eyes. Like her sisters, she has dark skin, but as mentioned prior, has a habit of covering it up. Conservative and cute bows are favored. She claimed the wings of a dark creature and wears them proudly... odd for one holy, but maybe it deserved it.
Character Personality Details: Sweet, supportive of her three sisters, and mild-mannered. She knows where her faith lies, but is careful not to push or influence anyone's opinion; remaining open minded and receptive to new things.
Other Notes: Her name means "to saunter." Colors and styles of clothing are negotiable.
References:


For more images of Aboyo by other artists, go here.
Ayira
Name: Ayira
Age: 22
Gender: Female
Height: 5'6"
Race: Human
Class: Martial Artist
Physical Description: Bright green eyes, spunky pink hair, and dark skin like her three sisters. Her clothing is light, color coordinated for some odd reason, and non-restrictive so she can do martial arts with ease. Those geta are a weird choice of shoes, but she doesn't wear them half the time. No one questions the bunny ears or the enormous bow she wears. The last guy who said anything about it was beaten and left in the woods for the beasts.
Character Personality Details:Usually friendly, very active both physically and socially, but has a fairly short temper. When she chooses to believe in something it's never halfheartedly, as is common in her family. She is confident, but not overly so, having tested her limits already and only pushing them gradually.
Other Notes: Her name means "chosen one."
References:


For more images of Ayira by other artists, go here.
Masozi

Name: Masozi
Age: 18
Height: 6'
Race: Human
Class: Swordswoman-in-training
Physical Description: The tallest of her sisters and the only one with naturally colored hair to match her dark, yet luminous skin. She's pretty, but allows her hair to get shaggy and in her face, giving her a less polished look than her sisters. Her clothes are slightly more practical, secrete leather armor, and any accessories she has were forced on her by her older sisters. Her eyes change, shifting from light browns and oranges to gold, as if her appearance hasn't entirely settled on her.
Character Personality Details: Very much like her sister Aboyo, but not so set in her beliefs. She seems lost and a little indecisive, assaulted by the opinions and values of other members of her family. She isn't very social, and only speaks when spoken to unless someone appears desperate enough for help. She keeps to herself, and spends long periods of time training and meditating on her path in life.
Other Notes: Her name means "tears." Feel free to draw her in a short skirt with leggings or pants.
References: (In the first two images, she is the one on the far left.)

For more images of Masozi by other artists, go here.
Elwen

She was sort of a vague character idea I had while reading Tolkien's works when I was little. She became my archer/hunter on iRO, and I don't really play it anymore, but I still adore her and kind of aim to transform her character a bit, developing her further. She's extremely outgoing and perky, to a fault sometimes, and interested in travel and bargain hunting. Her comrades are a falcon, and a pet wolf. She would frequently been seen with her friend, Arch.

Name: Elwen
Gender: Female
Age: 22
Height: 5'10"
Race: Half-Elf
Class: Archer > Hunter (Focus on Animal Handling)
Weapon: She prefers a traditional long bow and stone arrowheads, but she has recently taken a shine to a lightweight crossbow some fellow gave her.
Physical Description: Platinum blond hair, skin with a healthy glow from her travels, one green eye (right), one blue (left). Spending most of her time in warmer climates, and being ridiculous like most fantasy females, she is scantily clad. Sandy browns and deep earth tones supposedly help her blend into her surroundings, but I dare you to say that to the guy at the bar she was last at. Belts help keep what little clothing she has in place, and endearing little patches have been sewn here and there. For a hunter, she tends to over-accessorize. Goggles, cat bands, bows, and hairpins aren't necessary, but so entertaining! More ridiculous are the bells she attaches to her hood, she enjoys the challenge they present while trying to sneak up on her prey.
Character Personality Details: Friendly, bright, helpful, and only slightly perverted. She can be extremely flirtatious, particularly when it comes to her companion, Arch. She lives to socialize and meet new and interesting people. She wanders around, teaming up with complete strangers, sometimes with very questionable backgrounds. An avid collector of junk, she is also quite the bargain hunter.
Other Notes: Her name means "star maiden." The kanji on her right thigh means "star daughter" and the tattoo on her shoulder is vaguely referring to cycles in life and the symbol for yin and yang. Specific colors for clothing is negotiable. Also, in my first sketch, I had a moment of dyslexia and messed up the hiragana, it should say "musume" but I wrote "mesume."
References:

And images of Elwen by other artists can be found here.