Archaic Lullabies
(?)Community Member
Posted: Thu, 17 Jan 2013 05:49:25 +0000
PM me all selling information, please! -

SEE SECOND POST
I'm going to make this super simple xD
I love art of all kinds. From super HQ to everything below c:
I am willing to spend from 1g to 15m on one piece of art.
Hmm...well, I love auctions, freebies, chibis, sexy, couple art, and well, I love everything!
Just if you want me to buy your art, PLEASE pm me! Do not post here! I will most likely be too lazy to read it, and you might end up being ignored, which will hurt both of us
gonk
Please do not draw me before asking if I want to buy art, unless it is for free.
Well, on to my request!
I would like these avatars drawn: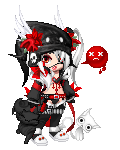 Art of them can either be cute, innocent, or super sexy. Really anything. I wouldn't mind yuri art, if you are ok with it c:
Couples will be of the first two or the second two. The tektek layering is messed up on the last one, so go by the image on this page, not the one when you open tektek.
Do not be afraid to ask me anything, just remember, PM ME!!!
Thanks!!
I will do RLC, pm me about it. I am extremely picky about rlc, though.