DefauIt
(?)Community Member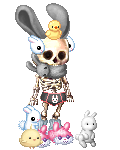 Posted: Sat, 17 Nov 2012 05:28:42 +0000
Dark_Sword99
DefauIt
::.DEFFY.::
✖[⇆]❝I'd Give My Undies❞||::a charity✖
❣Colorist for: Serengeti Plains❣
||keepin' default undies teh sex since 03'||deffy -hearts- her mushi||is Vyxin||loveing property of MaidenLimbo<3||


im on a sugar high... i also did 20 edited pets tonight... ><
i should be asleep rofl

how is you?
Thinking up more requests. XD I think I has another... a comic style one, of a dancing set ending with a kiss.
::.DEFFY.::
✖[⇆]❝I'd Give My Undies❞||::a charity✖
❣Colorist for: Serengeti Plains❣
||keepin' default undies teh sex since 03'||deffy -hearts- her mushi||is Vyxin||loveing property of MaidenLimbo<3||


im not sure i understand what you mean XD
and when i said comics before i meant actual comic pages again. that was kinda fun to do.