DefauIt
(?)Community Member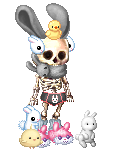 Posted: Mon, 22 Oct 2012 18:26:37 +0000
▮
index
▮
▬
open
▬ recent.works ▬ deffys.samples ▬ bloddys.samples ▬ mushis.samples ▬ commission.info ▬ reserved ▬ banners&links ▬

If you are looking for something from a specific artist please quote them.

Wearing the flower bao on your animal avi or the pumpkin bao or XL book bag on your normal avi?
If yes, you get free quicky chibis!!!! Real quick for everyone^^




Welcome to our library!


Come on in and take a break from all those classes that make your brain hurt while beign served by your amazing hosts Deffy, Bloody, and Mushi. We offer a wide selection of teas and dirty magazines for your enjoyment. Errmm.... I didn't say that... don't do that.... it will make your mommy cry. Instead, browse our lovely collection of art, and get some of your own? Just don't be late for your next class!
Guilded Addition
Pricey Addition


*We take no responsability and do not encourage being late/skipping classes, reading diry magazines, or making your mothers cry.


gaia_angelleft don't forget to tip your hosts gaia_angelright
Important Notes:
- We work slow, unless its something super small/sketchy. Don't expect anything quick here.
- We may or may not let you know if we are drawing for you when you ask.
- We also may change our minds without notice and decide not to draw you after we agreed to... sorry<3 We don't mean to be mean, we just change our minds quite a bit. XD Please do not tip in advance to avoid any issues.


wahmbulance TLDR- this is a freebee thread... we love tips. heart
Need some More Free Stuffs?
Click the Button
Check back, as these are adjusted and added too.
All prizes are givens out by Deffy.
Cow Emote:
Find a cow emote, alone with no other text(aside from deffys current poststyle) and you get 200,000gold.
*Cows can only be claimed 10 pages back.
**Only 1 person may claim a cow.
Draw The Hosts:
Draw deffy/bloody/mushi and get guranteed art back. Even if you think your art is terrible, we still love it!!! Bonus points if its a group image... we may even use it in the layout!
Page Prizes:
* "bump posts" will not win prizes
** You can only win once per winning page.
*** All page prizes will be paid for by deffy.
1500-
art for life
(last)
2000- 200,000gold(first) & 200,000gold(fifth)
2500- 2,500,000gold(third)