Ragna the Hell Tutor
(?)Community Member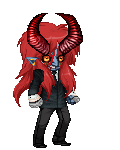 Posted: Mon, 30 May 2011 18:29:55 +0000
Path to Glory
Copyright and Development by HELLTUTOR INC. and affiliated third parties
The game were you take control of a character and you fight your way to godhood.
Fighters from every point of time and space of all sorts now fight each other in tournament aiming to ascend!
PDG is a game in constant evolution, new battle stages and contestants arriving all the time!
If you survive to the end don't feel like it's over!
That will be only the beginning of many more and much harder battles!
Team up or fight solo and watch out for the Bosses!
They will be extra hard to defeat and if they deem you worthy they will teach you new techniques!
HEAVEN OR HELL!
FIGHT!!
What we want:
Art of our avatars, backgrounds and if possible art of them fighting in said backgrounds
It's time to
I want to join this project:
PM Hell Tutor, send avatar size pic of the avatars you want art of and send that alone.
I'll fill all the blanks.
If I ad you up you'll have to post at least once a week, to keep the thread alive.

Rules:
Be polite, don't beg, be patient.
You can post youtube video you like if you feel like just bumping.
We enjoy funny videos and music so anything in those lines.