The Experimental Monster
(?)Community Member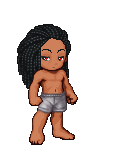 Posted: Fri, 24 Feb 2012 06:44:18 +0000
Wake up
Hard::
If its too hot.
Strip.
~nods~
Dully::
~is very pleased that he has made her so happy~
~grinning~
None for me.
Kaji::
Oh yes.
I plan to inspect every little inch of you.
Thoroughly.
~winks~
Cin::
~shrugs a shoulder~
What more can I ask for?
And someone who likes to cook as much as I could be nice.
~nods~
Especially if they are just as good.
~grins~
Syth::
I know.
I would kill for some calamari.
~eyes flash silver for a moment~
But I will simply have to live without.
I hope dinner was enough for you for a while?
I didn't leave you hungry did I?
~nods~
Completely understand handing the children back to their parents.
I've done my fair share of it.
~gets a brief wicked gleam in his eyes~
Hyper and wild. That's how I like to return them.
~chuckles~
You won't find a piercing on me.
My skin is rather sensitive, easy to hurt.
I won't usually inflict pain on it intentionally.
Unless there is true meaning.
~strips off his shirt and turns around~
~a tentacled lion, large black wolf, and black and lavender panther sleep lazily under a blooming cherry tree~
Like this.
~he leans back again~
That was worth it.
Reality is sometimes better than dreams