Sonpi-Chan
(?)Community Member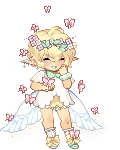 Posted: Sun, 27 Jan 2013 05:18:38 +0000


Just yesterday I received a package in the mail from my best friend. Inside was an art I had commissioned a handful of years ago that she picked up for me. It seems she just now remembered to send it (or took the time to do so). I squealed in delight, I won't lie about that. And now that I've gotten it and can ogle it freely, I was wondering if anyone else would be kind enough to offer some art of my OC? It would be greatly appreciated!

But the picture I received in the mail was this one down below. Pardon the darkness of it, I tried to scan it for better quality but the lines of it are so light, it just didn't pick up well on the scanner. So I had to resort to my phone so it can actually be seen. But it's still squeal worthy because I love how Allison just takes his design and runs with it—especially the little flare of his markings. The "modern" look she gave him is absolutely gorgeous! ; w; <3



In the past Allison drew Lucifer for me again as well, manipulating his original version and giving him a more wispy, elegant feel. [Previous request], see? Isn't it just magnificent? So as the artists, you all are more than welcome to dress him up as you see fit! I only request you don't change his coloring (like his hair—it's silvery/white, not black or any other color); if you all decide to splash some color on him or anything.

For anyone that is interested to know more about him (like his personality and the like), the basics are down below.