XMegantronX
(?)Community Member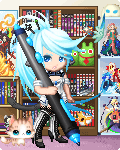 Posted: Thu, 29 Mar 2012 06:59:35 +0000
Alright. I've made this thread because I'm tired of giving critiques in the picture post forum and getting my head chewed off by by overly defensive artists. So I'm making this to show how to conduct a good critique and how to take a critique. If you agree, disagree, or want to note something I may have forgotten, feel free to comment.
How To Critique
Ready for this? Hold onto your hats, this is hard work! (not really)
*Say what your first impression is. Bad, good, or ugly, everyone has a first opinion. This is purely opinion-based so there are no wrongs here. If you think it looks terrible, let them know. If you like it, tell them.
*Analyze the art. You don't have to be a really good artist to see how gravity should work, how an arm is supposed to be, what an elephant looks like. So it's helpful to state what needs improving. Note all the ones you can, because an artist may not even know what could be wrong with their picture.
*Go into details. It doesn't help so much when a critic says "the arm looks weird". That statement only provides a little bit of information to the artist. It's best, but not required, to go into detail about why it's wrong and how it should look. This tips the artist off on not only how to improve the current picture, but how to keep from making the same mistakes in the future.
*Be polite. Granted, you are doing the artist a favor by posting you much needed opinion and advise to them, but being polite helps ensure that the artist doesn't take offence to the critique and can fully absorb your good tips. Granted, I know of many artists who get offended at any critique that isn't sugar-coated, but this makes them the immature one and isn't worth your time. my recommendation is to simply leave and avoid critiquing their art. I say this, because these types of people will not listen to you, so it would be like beating a dead horse. Best that your time is spent on an artist who is appreciative of your time.
How To Receive a Critique
So, art can be a very personal subject for nearly all artists. It's like our babies whom we have put tender love and care into. It's hard not to become attached to them. Art is a piece of ourselves. So it's no surprise that artists can be a bit defensive when it comes to their art. Every tough critique can feel like a direct attack, but you need to bare in mind that their goal is to help.
We've all had tough critics look at our art and had the most hateful things said to make you feel like you're the worst artist in the world. However, you have to ask yourself, "would they be posting about my art if they weren't trying to help? Most of the time, the blunt critic is harsh, but states specifically why they don't think it's good and how to improve. Although, there are the internet trolls who pop in to tell you that it sucks, but if they go into details, do not fret. They are trying to help you. This is how to take their critique and use it to your benefit.
*Keep from saying what your first reaction to the critique is. Really pause for a while and let what they say sink in. Keep in mind that they are helping you. Giving yourself time to cool off and think rationally is very important and keeps you from looking like a defensive artist only after praises.
*Try not to defend your work. Instead, look at your picture and try to answer why they would say that. Usually critics have a good reason for stating something specific. Maybe there was something you simply over-looked? Defending your work is like ignoring their concerns about your work and can be offending. Any art class will teach you to be silent while listening to a critique of your work. If you jump the gun and start defending, you may overlook what could be wrong with your work and important information.
*Turn the negatives into a positive. They're saying that the perspective is off and the anatomy is poor? Well congrats! You now know specifically what you need to practice. Without this information, you would probably keep practicing the wrong area that may not even need improving. The critic just saved you loads of time that would have been wasted. Many artists, without a second, fresh eye to look at their drawing have no idea what's wrong with it and get themselves into a rut. But not you, you lucky duck. You now can keep going because you got a touch critique from someone in the picture post forums.
*Use your manners. Be sure to thank the critique for their time. Being polite shows that you listen and accept the critique they gave. If bad manners are used, the critic will more than likely be offended and refrain from commenting on future works. You would have lost a valuable critic (however harsh they may be) because they would instantly think that you do not appreciate their feedback.
*Learn from the critique. Actually try to put those suggestions into practice. Maybe even do an update thread on a before and after critique. This not only helps you improve, but physically shows the critic that their words were not ignored.
*Be the better person. If the critique seems more like an attack of hurtful comments, remain calm and mature. Keep being your cheery polite self and you'll be thankful later. Others will admire your maturity and look down on your attacker and you won't be regretting yourself later for it. Instead, respond with a question of why they feel like this and explain your reasoning so they can understand. Make sure to still use those manners and thank them for their question or comment.
This is just a basic layout from reading different things online, the experience I've had in my art classes, and experiences in the picture post threads. I may come back and edit this as I re-read or realize i forgot something (which isn't uncommon for me). Thank you all for reading!
I hope you all will enjoy time spent in the picture post forums. It really is a nice place to be with the right attitude. Again, please comment with any suggestions of things I should add or clarify. If you're confused about any of the areas, please tell me so that I can make this layout better.
~Thank you all for the comments! i have revised the critiquing section, realizing the many many errors. XD I think this one better conveys what i was trying to say in the first place.