DawnThe Dark Morningstar
(?)Community Member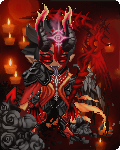 Posted: Tue, 30 Jul 2013 23:41:40 +0000
Currently I am working on a side project that I hope to have made into a comic book or even an ongoing web comic if I can get enough people interested in it. The point of this project is to help me get out of this spell of writers block so that I can continue writing my novel Shadowlands. Here's the issue. All character concepts for this project are solid save for one. Usually I can create monster/demon dudes no problem but it would seem this time around I can't come up with a concept that I haven't already used before. This is where you wonderful artists come in.
Time has once again been extended. Now the end date will be February 11th. If I do not get more than at least ten entrants, the time will be extended once again. I request that all entries be sent to my email dawn.morningstar87@gmail.com
When designing this monster dude, you should know that he holds high ranks serving as the right hand of the overlord in this realm. His reputation is a horrific one rivaling that of the overlords so he should come off as imposing or give me some sort of impression that he is not to be trifled with. There is no limit to the design of the body. This means you can make him look human if you desire or you can give him a grotesque face pulsing with tentacles. The choice is yours.
Prizes:
EDITED so that this thread won't be deleted. I was not aware that I could not offer you artists actual money for your art on this site considering I have done it before without being told otherwise. So gold prizes will be offered now, however I will still consult the winner of this contest concerning RL payment elsewhere when we get down to creating the actual comic. If those who entered want to withdraw their entries because of this change, I completely understand and apologize sincerely for this sudden change.
1st place: 2 million gold and of course given credit for your design.
2nd place: 500 thousand gold for your time and effort, credits will be paid and your design will be given some sort of role in the story.
With that being said, good luck and have fun!
Character Concepts
Ok so I have had some people present questions as far as my concepts for the other characters are concerned. While you don't have to base your own design on them, I shall present the information if you think it will help your ideas flow. Please note that these characters have not yet been drawn. The pictures you see are purely references for when I have the money to commission an artist to create a character sheet for them until I find the right artists to hire for this web-comic.

Una Simmons - Main Protagonist


Overlord - Main Antagonist


Over all fashion - Draw inspiration from what you see in the two links as well as look up bondage gear


Enviornment


I hope what you have seen helps you out with your ideas. As I have said before, you do not have to base your ideas off of what I have posted. I want the monsters to be diverse in this world.
Entrants
By HalinkaMoo - Tumblr

By Lizer_azul - Gaia
Description:
Dragon wing shaped ears.
Hairstyle: dreadlocks
Three fingers on each hand have long nails.
Skull is a trophy from a kill.
Has a scar on his chest
Blueish colored veins under eyes.
By Tolli Raovan WIP

Mad Outlier


Lliyk
MINI Contest
Since this contest is progressing slower than I'd like I will be adding a new prize. Who ever can refer the most artists to this contest and actually have them submit an entry will win 1 million gold. Simply have the person you refereed fill post this form.
[size=18]I[b][u]your name here[/u][/b] was sent here by [b][u]referels name here![/u][/b][/size]
Refereed List
1.