Lhance
(?)Community Member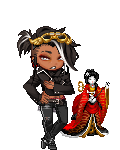 Posted: Sat, 12 Mar 2011 02:33:33 +0000
Cave of Muse: a two- part auction
Welcome ~ This is a special auction where I am offering a style that I have reserved only for close friends before. For the winning bid, I have a variety of styles to offer, but this is your opportunity for something different from my norm.

I am pretty much closing myself down from commissions on Gaia to real life commissions. I want to thank all my friends, supporters and commissioners over the last few years who've helped me improve my art and skills beyond what I'd ever thought to achieve--and more.

Thank you again, Gaia, you've been a wonderful place to nurture future artist--may you continue to inspire!




Round 1-Invite Auction: closed


**see 4th post for details**





Round 2-Public Auction: Now Open~


Starting Date March 16th, 2011
Ending Date May 14th, 2011

SB: 500K

thank you !


HB: AzureEyesCrimsonTears with 14M heart
AB: not yet decided





Bid Ladder
500K: one full body cg chibi
4M: anime style half body cg
7M: anime style full body cg
9M: anime style full body cg with intricate background


10M: realism headshot with intricate background
20M: realism half body with intricate background
30M: realism full body with intricate background

*debating on couples option*



Announcements: Public Auction-OPEN / Advertisement Game-OPEN *see 5th post for details*

title//
gallery//rules//auctionA//special event//link exchange