Nori Strikes back
(?)Community Member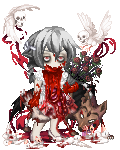 Posted: Sun, 01 Oct 2006 19:15:52 +0000
Everyone by now knows about the eccentric and overenthusiastic celebrity Ron Bruise. Old news, right? And I am also sure that I'm not the only one to notice a day or two ago that he took of "Cyanetics" off of his list of interests.
But what is Cyanetics, exactly? How are the G-Meters involved? Why do they shun Pyschology and psychiatric medicines? Well, today I intend to find out through the power of makin' stuff up!
Before you read on, perhaps you should take our new
Free Personality Test
to see if Cyantology is right for you!
Much thanks to member EricJ2190 for making it for us.
CYANETICS AND YOU: A BRIEF OVERVIEW
Our Founding Father, O. Mon Cubbard.
Church of Cyantology was founded by O. Mon Cubbard, a rather obscure science fiction writer who wrote many forgettable short stories, but dreamed of bigger things in life. He dreamed of telling people the truth about Gaia, the universe, and everything! So, with the gusto of a Marketplace millionaire, he decided to found his own religion. He released a book called Cyanteics, which laid down the outlines for the
Ultimate Truth of the Universe
.
Part One: The Ultimate Truth
Basically, the book said that the universe was once ruled by a horrible alien leader named Xanadu, who, from what we can surmise, was a huge fan of Olivia Newton John. (Cubbard goes on to say how Olivia Newton John is a universal constant). Xanadu was a pretty bad dude, as he habitually liked to kill off many of his followers for what he liked to call "shits and giggles." Those he didn't kill he would subject to merciless Indian rubs, wet willies, urple-nurples, and wedgies, as well as the occasional "stuff you in a locker" type deal. His subjects pretty much thought he was the biggest jerk this side of Tabulature-5.

Seriously, what is up with that hair?
One day, after his subjects attmepted to "overthrow his Olivia Newton John-loving a**," Xanadu retaliated by hosing them down with a sleeping gas. He then immediately had all the revolters shipped to a desolate planet, which is now known as Gaia, and piled them around a volcano. He then dropped a a nuclear bomb inside said volcano, in a holocaust which would later be dubbed "The Horrendous Volcano Gablooie!" The unconscious revolters were all instantly killed. However, their ghosts wandered the planet of Gaia, becoming generally depressed and listening to Morrissey albums (it is assumed that Morrissey is also a universal constant, as well as his ability to pull off that hairstyle).

The mopey musician that Gigglywads crave!
Xanadu wasn't finished yet, however. Simply having a ghost world of mopey aliens would not be going far enough. So Xanadu, in his usual style, decided to go needlessly overboard by inventing the movie theater for the sole purpose of using it to brainwash these alien ghosts, also called "gigglywads." These "gigglywads" were herded into the theater under the premise that they would be seeing
Star Wars Episode IV: A New Hope
, but instead were subjected to watching Olivia Newton John's entire filmography. The gigglywads, with their spirits crushed even more so, as well as their remaining taste in music, began to feel as if musicals and rollerskating were the only things that could save them. And, other religions, for some reason.
When the planet Gaia began to be inhabited by actual Gaians (or Humans or Avatarians, or what have you), the gigglywads would cling to them in attempt to get relief from the pain of having been subjected to watching
Grease
48 times. These gigglywads pollute our minds and hearts, making us unable to be fully happy. Also, they are probably stuck to us because they are covered in spilled soda and partially-chewed Milkduds.

Gigglywads are stuck to you because they are covered in these. Ewwww!
Xanadu, however, was eventually defeated by The Ghostbusters, who, upon hearing about the massive number of ghosts on Gaia, tracked the source of the slaughter back to Xanadu and crossed their beams at him from a safe distance, destroying Xanadu and his entire palace, as well as all his autographed Olivia Newton John posters. And there was much celebration.

No matter how hard you try, you will probably never be as awesome as these guys.
Cubbard claimed to be the only one to realize all of this, and invented the G-Meters, which would both measure and remove the gigglywads from ones body. Cubbard claimed that if you sent him a bunch of gold, he'd send you stuff to get rid of them. Eventually, Cubbard died in a bunker by choking on some stale Chex Mix. But his religion prospered.


UPDATE:
With the arrival of the cows, lead Cyantologists are scrambling to find a reason to
get more money
explain this unusual phenomenon. Some speculate that they are the physical incarnation of Gigglywads, others believe they are an omen that Xanadu's army is descending upon the Gaian planet. More information as it comes.
We can't stop here. This is Cow Country.

Part Two: The Present Situation

The alien race that Xanadu was from, however, aimed to continue his vision for galactic conquest, as well as having their vengence against The Ghostbusters. Until the release of energy emenated from Gaia because of the split from Gino and Johnny Gambino, these aliens had no idea where Gaia even was. And soon, there will be the battle to end all battles between the aliens and the Gaians, perhaps once and for all dispensing of the gigglywads, and exposing the latent super powers that all Gaians have possessed.
How will you prepare for this battle, you ask? Joining our church is an important first step. In the Church of Cyantology, salvation can only truly be achieved by giving us all of your money, so that you can be provided with stuff to help A) dispense of the Gigglywads, and B) unleash your secret awesome powers. What exactly are these powers? We have provided a handy list for you:
~ Flying
~ Super Strength
~ Telekinesis
~ Pyrokinesis
~ Sandwichkinesis
~ Force Lightening
~ Vulcan Nerve Pinch
~ Ghostbusting
~ Power Doors
~ 15 Year Drivetrain Warranty
~ Necromancy
~ Necrophilia
~ Mind Bullets
~ Shapeshifting
~ Shipshafting
~ Speaking Klingon
~ Re-financin'
~ Escrow
~ Cutting Ones
~ TV/VCR Repair
...
OR GET YOUR DEGREE!
We also offer courses on Proper Use of the G-Meter, How to Release Your Inner Ghostbuster, Giving Us 5,000 Gold, Couch-Jumping 101, Acting Pretencious, Plan 9 From Outer Space: Best Movie Ever? and Pizza Parties and YOU.

In order to get saved, you will need lots of this.
An important part of Cyantology is the dismissal of all pyschological medicine, since Gigglywads love shrinks and anti-depressants. Also, you could very well run the risk of
being deprogrammed
being corrupted by their evil, evil mind games. And you wouldn't want that, would you? Of course you wouldn't. Because everyone else that isn't us is lame.
So, what are you waiting for, dummy! All the cool kids are joining! And you wanna be a cool kid, don't you, Billy? DON'T YOU? You don't wanna be all fat and ugly and a loser, right? Because losers never get any. And not getting any could give you cancer. And your precious little hospitals won't be able to save you then. What're ya gonna do? Cry? Cry like a little crybaby? Why don't you go and listen to some Morrissey with those gigglywads of yours, you big crybaby.

This is you, Billy. We know where you live.
Oh, ahem, right. Sorry. Where was I?
JOIN TODAY!
The Church of Cyantology is in no way affliated with the Church of Scarientology. Those guys are losers.Anyone who says otherwise will be sued.