Mugetsu Ookamiza
(?)Community Member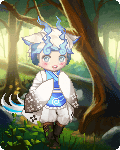 Posted: Mon, 04 Jul 2011 03:04:25 +0000
http://www.animenewsnetwork.com/news/2013-04-19/blue-exorcist-spawns-1st-spinoff-manga
The seventh issue of Shueisha's Jump SQ.19 magazine published the first official Blue Exorcist spinoff manga on Friday. Minoru Sasaki drew the one-shot "Salaryman Exorcist: Okumura Yukio no Aishū" (Salaryman Exorcist: The Sorrow of Yukio Okumura) under the supervision of Blue Exorcist creator Kazue Katō. The gag comedy follows the daily life of the overworked Yukio as he stresses over his twin brother Rin.

The same Jump SQ.19 issue also includes a poster illustrated by Katō, Tetsu Kasabe's one-shot manga "Travel Writer," and a special one-shot manga of Robinson Haruhara's Senyū.
movie news 9
according to ao-ex.com it looks like the movie is coming out on DVD and Blu-ray 7-3-2013!
general news
not that long ago they announced a date for a character image song release. apparently the first (or hopefully first, as I wouldn't mind image songs for most of the cast, I have a feeling if Mephisto got one it would go up there with the image songs Xellos from The Slayers franchise got in terms of amusingness) will have image songs for Rin and Yukio and
ao-ex.com
has some short samples of the songs.
dub news 1
we can has AoEx dub!
. Viz has announced they'll be streaming a dub for the serie s on their new Neon Alley service (which is unfortunately for some a streaming system for gaming systems, but you know someone will probably find a way to rip it anyway, and this COULD potentially lead to a dubbed DVD release)
EDIT1:
so far two VAs for the dub are known
, with
-
Bryce Papenbrook
(voice of Masaomi Kida from Durarara!!) voicing Rin and
-
Johnny Young Bosch
(voice of Lelouch from Code Geass, Ichigo from Bleach, Vash from the Trigun TV series, and Kiba from Wolf's Rain) as Yukio.
EDIT2:
and it turns out there will be DVDs/BDs
http://bayoab.info/live/live2.php?panel=65
14:41:00 <bay> there will be dvds for every product you see on neon alley
14:41:10 <bay> you can be assured that everything on neon alley will be on dvd and blu-ray when available
14:41:22 <bay> i know it's been a challenge for us previously (up a few lines)
dub news 2
just posted on the Blue Exorcist facebook page that Aniplex of America runs was this little blurb:
"Don't forget to catch Blue Exorcist Dubbed this September on Neonalley.com"
link
dub news 3
we've got a trailer for the dub out that includes dubbed lines now. while some of it does appear to need a little work it's important to note that this is early enough it's probably just a sample dub at this point and not clips from the final version.
http://www.youtube.com/watch?v=_XzJRNhyFTM&
dub news 5
I've found
some indication
that the rumor of Darrel Guilbeau voicing Amaimon may easily be true. it seems the formal announcement for the rest of the dub cast may just be a day or so away.
dub news 6
Neon Alley (and the Blue Exorcist dub) has been announced to premier on October 2!
http://www.youtube.com/watch?v=5KNtLT1Rmlc&
EDIT:
it's October 2 now and Neon Alley's schedule just went up. they'll be premiering episodes of Blue Exorcist on Saturdays at 10pm EST.
movie news 2
a blurb at the end of
an article on ANN
mentions the director has been decided on and will be Atsushi Takahashi, one of the two assistant directors for Spirited Away and also an assistant director for Magical Shopping Arcade Abenobashi and the director for Rideback. the screenplay for it is being worked on by Reiko Yoshida who also did the screenplay for The Cat Returns, Romeo X Juliet, and scripted 7 episodes for Scrapped Princess and also was script supervisor on that.
movie news 5
ao-ex.com
has been updated and now includes new art and some info, including a "trailer" link that says "coming soon" when you go to click it. also, it gives the date of December 28, 2012, which is safe to assume that's the date it will hit theaters in Japan. also, the new art on the page includes two new characters

movie news 6
the first 30 second movie trailer has been added to the oficial website
!
EDIT:
found a text translation for the trailer:
Mephisto: Humans are beings who live in the past(?)

Therefore they are lovely in their foolishness.

(text) - 2011, one time carnival

Rin: I will walk down the path I believe in!

(text) - A forgotten memory

Yukio: Nii-sama did you forget what was sacrificed?!

Rin: There's no way I could forget!

(text)- The torn seal

Mephisto: I'll kill you whenever you wish

(text) - The hidden past.

Rin: I definitely won't forget

(text) - Pandora's box is opened

Rin(?): Please don't disappear
movie news 7
information has been released on the two new characters for the movie;

Quote:
Usamaro is a young demon Rin meets when he's performing the exorcism of a "Phantom Train."
Seems he's sealed in a shrine for some reason.
And Rin has to take care of him during the festival…

Quote:
Cheng-Long Liu is a higher-leveled exorcist from Taiwan branch.
He comes to Japan to help the True Cross Academy with the replacement of old barriers.
He was born to an elite family and has fairly strong power of exorcism.
HEY~
here's a gift for you all.

I was hyping over the movie and mucking about with some of the art from the website and came up with a wallpaper for my computer I liked enough I'm gonna share it with you all. let me know what you think of it~


(click the image for the full sized version)


I reuploaded a slightly edited version to fix a few flaws I missed the first time


here's a larger variant if the first is too small for you.

new wallpaper!

(click the image for the full sized version)
here's a larger variant if the first is too small for you.
Blue Exorcist (also known as Ao no Exorcist) is a shonen manga by Katou Kazue that runs in the monthly magazine Jump SQ and also has a currently airing anime adaption in Japan (which is already licensed with the first release coming out in North America in October). Viz has licensed the manga and the first two volumes are already out.
the story is fairly typical for a shonen supernatural action series, drawing from a lot of common tropes. setting it apart from the mass of typical shonen supernatural action titles is that it uses the tropes well for the most part and manages to remain a fun read. the anime pads out the story a little bit, since it's a monthly title witch chapter 26 only just recently coming out in Japan, but still manages to adapt the story pretty damn well.
the focal character of the series is Rin Okumura, who grew up thinking he was a normal kid. the story starts with his expected life getting derailed when he finds out he's half demon and Satan is his father. forced into a corner he draws the sword that was sealing his demonic side and ceases to become a full human, forced into a corner by the fact his father is Satan, his powers are potentially very unstable, and he can potentially become a pawn of Satan (or even a vessel for Satan to freely enter the human world) he ignores the three options he's given by the exorcists (which boiled down to him killing them to survive, him allowing them to kill him, or him killing himself) he chose to become an exorcist himself so he can "KICK SATAN'S a**!"
the characters are all fun in their own way, from Rin, who is pretty easy going, prone to getting into trouble, and has a sense of justice he sticks to, his younger twin Yukio (who lacks Satan's power and is essentially a normal human because as a fetus he was too weak to inherit Satan's power) who is more mature and serious, Mephisto, who runs the Japanese branch of the True Cross Academy, is rather eccentric, and has his own demonic origins despite working with the exorcists and very likely has his own agenda, to Ryuji (better known as Bon) who looks like a punk but is rather serious, reliable, and smart despite having a bit of a temper at times, and Shiemi, a shy and somewhat clumsy girl who wants to become stronger, as well as many more characters (seriously, go
here
for a proper list of them and their personalities).
anywho, I made this thread since
the old one got Chatterboxed for some odd reason
and it's odd using a Chatterboxed thread for a mostly on topic anime/manga discussion.
that said. the most recent ep, 12, rocked. the action was great, the characters were amusing, and Rin's reaction to a certain reveal was WONDERFUL!

-------------------------------------------------------------------
past poll results: