Mugetsu Ookamiza
(?)Community Member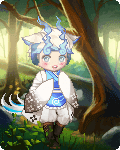 Posted: Mon, 04 Jul 2011 03:04:25 +0000
FRIENDLY REMINDER THAT GIVING OUT OR REQUESTING ILLEGALLY OFFERED COPYRIGHTED MATERIALS ON GAIA VIOLATES THE TERMS OF SERVICE. THIS THREAD WILL TELL YOU WHEN THE NEW CHAPTERS COME OUT BUT IT'S UP TO YOU TO FIND THEM YOURSELF.
also of note is the fact that's Viz's digital Weekly Shonen Jump does run Blue Exorcist and it's on their "simultaneous release" list which means the first new issue of Weekly Shonen Jump that comes out after the new chapter officially comes out in Japan will have the new chapter with an official English translation.
Time Killers is getting released on September 2!!!!!!
FINALLY! A RELEASE DATE! AND THE MONTH OF MY BIRTHDAY, TOO!
NEW
HEY~
here's a gift for you all.

I was hyping over the movie and mucking about with some of the art from the website and came up with a wallpaper for my computer I liked enough I'm gonna share it with you all. let me know what you think of it~


(click the image for the full sized version)


I reuploaded a slightly edited version to fix a few flaws I missed the first time


here's a larger variant if the first is too small for you.

new wallpaper!

(click the image for the full sized version)
here's a larger variant if the first is too small for you.
Blue Exorcist (also known as Ao no Exorcist) is a shonen manga by Katou Kazue that runs in the monthly magazine Jump SQ and also has a currently airing anime adaption in Japan (which is already licensed with the first release coming out in North America in October). Viz has licensed the manga and the first two volumes are already out.
the story is fairly typical for a shonen supernatural action series, drawing from a lot of common tropes. setting it apart from the mass of typical shonen supernatural action titles is that it uses the tropes well for the most part and manages to remain a fun read. the anime pads out the story a little bit, since it's a monthly title witch chapter 26 only just recently coming out in Japan, but still manages to adapt the story pretty damn well.
the focal character of the series is Rin Okumura, who grew up thinking he was a normal kid. the story starts with his expected life getting derailed when he finds out he's half demon and Satan is his father. forced into a corner he draws the sword that was sealing his demonic side and ceases to become a full human, forced into a corner by the fact his father is Satan, his powers are potentially very unstable, and he can potentially become a pawn of Satan (or even a vessel for Satan to freely enter the human world) he ignores the three options he's given by the exorcists (which boiled down to him killing them to survive, him allowing them to kill him, or him killing himself) he chose to become an exorcist himself so he can "KICK SATAN'S a**!"
the characters are all fun in their own way, from Rin, who is pretty easy going, prone to getting into trouble, and has a sense of justice he sticks to, his younger twin Yukio (who lacks Satan's power and is essentially a normal human because as a fetus he was too weak to inherit Satan's power) who is more mature and serious, Mephisto, who runs the Japanese branch of the True Cross Academy, is rather eccentric, and has his own demonic origins despite working with the exorcists and very likely has his own agenda, to Ryuji (better known as Bon) who looks like a punk but is rather serious, reliable, and smart despite having a bit of a temper at times, and Shiemi, a shy and somewhat clumsy girl who wants to become stronger, as well as many more characters (seriously, go
here
for a proper list of them and their personalities).
anywho, I made this thread since
the old one got Chatterboxed for some odd reason
and it's odd using a Chatterboxed thread for a mostly on topic anime/manga discussion.
that said. the most recent ep, 12, rocked. the action was great, the characters were amusing, and Rin's reaction to a certain reveal was WONDERFUL!

-------------------------------------------------------------------
past poll results: