Starrii
(?)Community Member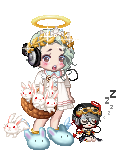 Posted: Mon, 11 Jun 2007 23:20:02 +0000
Elindranyth
Starrii
I think that planning should begin earlier, and that publicity really is needed. Because this is a user-run thing, there should also be more users involved, people think this is only for the elitist. You guys should have started the process around January, instead of March (though I know that not everyone is on 24/7, starting earlier can balance out the time more), and there should be a hiring thread that gets more then 10 people as staff (maybe 25?).

Also, encourage user-participation. With a simple, 'Post, talk, have fun or friends!' people will be more inclined to enjoy the ball. (: Also, host more contests, bumping contest, best dressed, official lottos, that sort of thing. It will make it much more interesting. ^-^

Planning a ball sounds fun. xD

Otherwise, this ball was a success. I just ask that the subforum isn't in the GeeDeeCee next time, because it's bringing the GeeDeeCee too many new faces. >__<''
The people involved weren't handpicked by anyone. Every single host found their way to the guild on their own, applied to be a host, and then once hosts were chosen, it was up to them to pick their co-hosts. They were specifically asked to pick co-hosts first from people in the guild, preferably those who had applied to be hosts but weren't chosen. Regardless of what many people want to believe, it had nothing to do with elitism. Even if more people were involved, those people calling the hosts elitists would still be doing so.
As far as publicity, there's only so much you can do, and we did it. Nearly every person involved in the ball had a banner for it in their sig, linking people to the guild where anyone could offer to help. It was a public guild so ANYONE was more than welcome to offer up suggestions, apply to be a host, whatever.
We had our thread in the Exchange where we sold what little items were donated, and where we held the mod underpants auction with what the mods donated to us.
We had a thread in the R&C forum where myself and one other person auctioned off art & a profile, and this thread also had a link to the public guild.
We don't have anything like the user ads anymore, and we can't just go making topics about it in other forums without getting in trouble for spamming. And I know we did make other threads about it in places where we were allowed to. I know a few times people tried to make discussions in the GCD as a way to try to get more people to know about it, and that is where alot of the users involved came from, but you really have to be careful when doing stuff like that because it doesn't take much to turn a thread into an advertisment that is only suited to the Chatterbox forum.
There really isn't much more that we could have done. If we had more users involved, then that would have been more people with it in their sig, but in order to get more users involved, they have to know its going on.
Yes, planning could have started sooner, but that's something that hopefully won't happen again next year. As I mentioned earlier in this thread, it was a last minute thing, when Leyna did her best to pull it together in 3 months after she realized that no one else was stepping up to host this thing and she didn't want to see it die.
@Masterdark: the hosts have no control over what other topics are started in the forum. I personally think that the "Oldbie Only" threads were stupid, but there isn't anything that any of us could do to stop them.
(: That sounds interesting. I wasn't saying it's elitist, since I understand it's not, it's just that people think so. Hm, is it possible to make it much more user-involved? Such as make a public chat thread in Chatterbox and such, because seriously, a lot of poeple don't like the Guilds at all and aren't familiar with the guild. x3